Brendan Rodgers on Hammers Win: Post Match Chat and a Bunch'o Numbers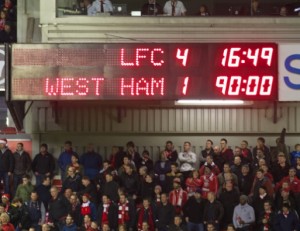 After the 3-1 reversal at Hull City last weekend left the Liverpool faithful with visions of a complete campaign melt-down, the Reds have averted any need for the big Red panic button by scoring 9 goals in their last two matches — picking up 6 out of a possible 9 points on offer in the last 7 days.
Still, it's strange times around Anfield with the scorelines not exactly reflective of the run of play. A number of cracks in the Liverpool game need to addressed — and if we're seeing that, then Reds boss Brendan Rodgers is seeing it as well. "It was a difficult game, West Ham are a committed side," said the Northern Irishman following the win. "We started slowly but once we got the goal, it allowed us to flow better." Still, it didn't prevent West Ham United from giving us a scare.
Video courtesy of showmetheFOOTBALL
Hard to complain about that one

In our last 2 matches, we've scored — or forced — a mind-melting 9 goals; 5 of them came against Norwich City midweek when Luis Suarez's masterclass performance almost single handedly downed the Canaries, and the rest came Saturday when West Ham United came to Anfield.Liverpool were able to score 2 — through Mamadou Sakho and Suarez — with a further 2 own-goals forced by the Uruguayan. It's easy to say that the Reds should have had more; they were able to get 32 shots off during the 90-minutes, but only an abysmal 29% of those shots found the target compared to the season average of 42%. The Hammers also gave up 8 corners, but the hosts were unable to capitalize.

One of most striking aspects of the match was how much of the ball we had; Brendan Rodgers is a manager that values possession above all else and the 59% of the ball his side saw bettered their usual 53% and certainly left him with a smile on his face. One of defining factors was the Reds 86% pass accuracy — with an average pass length of 18m — which included an impressive 33 long balls finding their mark.

Regaining the ball quickly after losing it helped as well. Liverpool won 52% of their duels — a marked improvement from the 48% we're used to — which included 14/30 tackles, 15/32 take ons and 26/46 headed duels. The Reds back-line was also successful in defending 4 corners; but, obviously, we still let a cheap one slip in when Martin Skrtel scored his second own-goal of the week. Well, if you can't keep 'em out, score 'em.

Stats courtesy of Squawka
An almost carbon-copy of Norwich City's consolation goal played out when Matt Jarvis's header across the face of goal was inadvertently re-directed into the net by Liverpool defender Martin Skrtel — his second own-goal of the week. Still, the Reds had too much for the visitors at the other end, but the "if you can't keep them out, score them" philosophy only goes so far. Well, for sides that don't have Luis Suarez anyways.
The Uruguayan scored one of his own — a bullet header that restored the hosts 2 goal cushion in the 81st minute — and was also instrumental in both of West Ham United's own goals. Rodgers, obviously enjoyed that. "Most teams in the world would want Luis Suarez. I don't think you can put a price on him and I wouldn't want to" said the Liverpool boss.
"I wouldn't swap Suarez for anybody. I get the chance to work with him every day and what he gives to training and what he gives to the team is just a relentless desire" he continued. Although Liverpool will be without Daniel Sturridge until mid-January, Suarez has shown that he can cope in the absence of his distinguished strike partner. "In the end we had 29 attempts at goal, and we could have scored more than four," enthused Rodgers. "It was a great victory."
Liverpool have a tough festive period on the horizon with trips to Tottenham Hotspur, Manchester City and Chelsea before the calendar rolls over. It's been strange times in the Premier League though and a number of upsets have given the Reds — and the rest of the league — proof that there's no pre-determined results. "We'll just go to the next challenge. These were games that were tough for us last year. You give the respect to the players because they are actually making them look a lot more straight forward."
Progression has been steady under the Northern Irishman and the Reds are back into second spot in the Premier League. Still, his record against the top teams has been something to improve upon — hopefully, that next step will play itself out in the coming weeks.
–Steven
Enjoyed this post? Share it with your friends, companions, colleagues and enemies on your social media platform of choice — sharing is caring.