Rodgers on Scouting Mission as Draxler's Schalke Beats Salah's Basel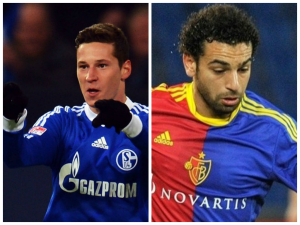 Rumour has it that Brendan Rodgers was out doing some scouting in Germany last night as Schalke 04 beat Swiss side FC Basel to advance to the Champions League Round of 16. The real question though is who was he watching — Julian Draxler or Mohamed Salah? Or both?
Both players have huge potential and would suit Liverpool well – now it's just a matter of securing them. Draxler opened the scoring last night as Schalke beat their visitors 2-0 to progress to the next stage of the Champions League. As it sits, the Reds are without any European football to offer the youngster, so securing the services of the 20-year old, who has been mooted as a long-term replacement for injured captain Steven Gerrard, could prove tricky. Liverpool has been linked with a bid for the budding midfielder since the summer and would do well to fend off interest from a host of other European clubs.
On the other side of the pitch, Rodgers could have also been in Gelsenkirchen to keep an eye on winger Mohamed Salah. The man who's been dubbed "The Egyptian Messi" is apparently on the auction block with Basel willing to part ways with the influential attacker for a fee somewhere in the region of £15mil. There were whispers that his representatives were at Anfield on Saturday as the Reds ran out 4-1 winners against West Ham United and the Liverpool bosses impromptu trip to Germany has only strengthened the rumors that we're keeping a close eye on the 21-year old.
The Merseysiders sit, surprisingly, in second place going into this weekend's meeting with fellow Champions League contenders Tottenham Hotspur. The Reds were stifled in a number of attempts to bring a high-profile attacking player to Anfield over the summer, but their recent run of form could start to turn the attentions of up and coming stars north of London as Rodgers young side continues to light up the league. The transfer window doesn't open until January, but if this is the kind of talent we're scouting, then we're certainly on the right track…