Joe Allen Talks Mentality and Squad Strength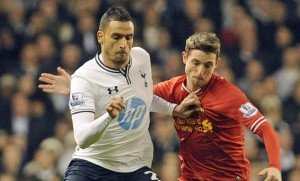 With a number of high profile injuries blighting the Reds starting line-up, there were very real fears going into yesterday's meeting with Tottenham Hotspur that Sunday would mark the beginning of a very bleak holiday period for Liverpool; while the pessimists got a welcome surprise, Welsh midfielder Joe Allen pointed to the teams mentality as the driving factor for the surprise victory.
"We were confident coming here off the back of two great results and with the likes of Luis playing so well and the team as a whole" said the Reds midfielder. "We were confident we could get the win." And what a win it was; yesterday's 5-0 demolition of Spurs was the Reds biggest ever win at White Hart Lane and their first in seven attempts. Although Allen loves winning in front of the Kop, he's hailed the road win as a special moment.
"It's always a great feeling to win at home, but our home record has been great. On the road, it has been a little inconsistent, so this is a special moment for us" he beamed. "Hopefully, away from home, this is a turning point for us." The Reds have a pair of tricky away fixtures on the horizon with visits to Manchester City and Chelsea complicating the calendar, but the 23-year old thinks we can cope – even without a number of our higher profile players.
"We knew that missing Steven was going to be a big loss for us, but that probably showed the strength that we've got in our squad – especially in midfield" said Allen. The former Swansea man has found himself on the fringes of the team for large swathes of the season, though he's appeared to come back into the first team picture as of late and was one of the standout performers in the team yesterday after shaking off the rust. Despite the praise heaped on the Welshman, he's eschewed any personal plaudits to focus on the unit as a whole. "Everyone came to the fore today and probably answered the doubts people had as well as you could. It's a great feeling."
It certainly is, Joe. It certainly is…