Luis Suarez Pens New Long-Term Reds Deal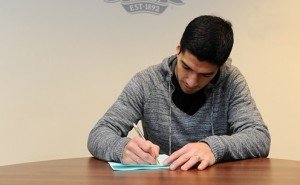 Surely it's a holiday miracle; after Liverpool opened talks with Luis Suarez's agent Pere Guardiola earlier in the week, FSG and Ian Ayre have bagged a major coup for the Merseyside club with the Uruguayan putting pen to paper on a new long term deal earlier this morning at Melwood.
After a tumultuous summer of uncertainty and jockeying for position, the striker's commitment comes as a both a surprise and a massive relief for the Reds faithful. Although the terms and length of the deal have yet to be made public – and surely there will be speculation regarding buy-out clauses and secret society memberships – at this point in time it hardly matters in the least. We're happy to have him here and Suarez, speaking with the official site earlier today, said he's over the moon to stay.
"I am delighted to have agreed a new deal with Liverpool and have my future secured for the long term," said the Uruguayan. "Without doubt the backing I have received from the Liverpool fans has influenced my decision. I am so proud to represent them and go out to do my best for them every time I pull on the shirt."
Unconfirmed reports have the deal making the 26-year old the highest earning player in Liverpool's long history, though specific financial figures and contract length have yet to be revealed. What we do know at this early stage is scoring 17 goals in 11 starts will get you paid – strikers, please take note.