Chelsea Build-Up: Jose Hopes for Suarez Niggle, Ivanovic Wants to be Ready and Ramires Snags a Day Off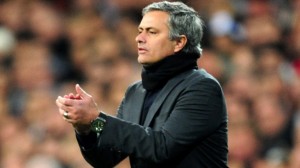 One of the best parts about the defeat to Manchester City on Sunday is that it won't live long in the memory; the Festive Fixture list has dealt us a trip to Stamford Bridge on the weekend and the focus has quickly shifted to ending Jose Mourinho's impressive run in London.
Following the 2-1 reversal at the Etihad Stadium, Liverpool dropped to fourth in the table, but it remains a race that's too close to call at the top. Although the Reds have constantly – and at some points vehemently – talked down their title ambitions, a mere three points separates them from Arsenal in first place and a solitary point puts Chelsea ahead of them going into the weekend. Things, as they say, are getting interesting.
Although the City defense was able to keep Luis Suarez off the score sheet, returning Chelsea boss Jose Mourinho isn't about to rely on his back line to stop the Uruguayan – instead, he's hoping for an injury. While Fernando Torres, Demba Ba and Samuel Eto'o have managed a meager five goals between then, Suarez, on the other hand, has 19 league goals to his name already. Couple that with the fact that he's only played 13 Premier League matches since returning from a 10 game ban for biting Branislav Ivanovic, and you can see why the Portuguese manager jokingly hoped Suarez wouldn't be fit.
"Maybe Suarez got a little injury," he teased. "I'm not asking for a big injury. A little injury to stop him playing for four days." Liverpool will already be without former Chelsea man Daniel Sturridge, skipper Steven Gerrard and Spanish defender Jose Enrique for the match – apparently that's not enough for Jose. While the former Real Madrid manager plots a way to keep the free scoring Reds off the board, Serbian defender Branislav Ivanovic will likely be central to his plans.
The Blues stalwart needs no introduction to Luis Suarez or the Liverpool faithful and he recognizes what a huge match this is. Even without the Premier League race being as tight as it is, matches between the two sides have taken on an extra-edge over the last few years and have turned out some classics — including last season's 2-2 draw in which Suarez grabbed a share of the points right at the death. This, it goes without saying, is something Ivanovic will surely want to avoid. "I hope we're going to be ready for Liverpool, because it's a massive, massive game for us" he told ChelseaTV. "It's going to be a very important game for us, one of the deciding games this season."
With such a tight race at the top, every match is a big one and the Blues kept themselves in the title conversation with a 1-0 win over Swansea City on Boxing Day. A single goal from Eden Hazard was enough to seal the points at Stamford Bridge, though they were handed a blow when influential Brazilian midfielder Ramires picked up his fifth booking of the season and an automatic suspension for Liverpool's visit on Sunday. Frank Lampard is likely to take his place in the squad – we'll see how the Chelsea old-boy matches up to Liverpool's new generation.
–Steven