Liverpool (1) Chelsea (2): Fixture List Takes a Toll as Reds Lose in London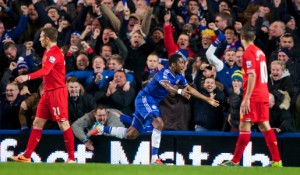 And just like that, we fall from first at Christmas to fifth at New Years; another road trip and another loss as Liverpool lose back to back for the first time in forever with a 2-1 reversal to Chelsea at Stamford Bridge.
Martin Skrtel opened the scoring in the third minute when he prodded home a deflected Luis Suarez header, but Eden Hazard quickly restored parity with a magnificent curling shot that had Reds 'keeper Simon Mignolet well beat. A perfect low cross from Oscar after a hard working display from the Brazilian saw Samuel Eto'o slide in the go-ahead goal, and eventual winner, before the break. Much like the meeting with Manchester City on boxing day, the Reds will feel aggrieved to leave London with nothing as the similarities to the trip to the Etihad amounted to more than just the eventual outcome.
For the second match on the bounce, we saw a thin squad get thinner; injuries to first team players have an impact on any squad, but when you're up against arguably the two deepest in the league in Manchester City and Chelsea, you understand how important strength in numbers actually is. Essentially the same set of players ran out three matches in eight days and it showed — when Liverpool is on form, it's all high tempo and deep pressing like we saw against Tottenham Hotspur and Manchester City; we saw none of that today.
The entire midfield looked ragged with Joe Allen going off injured on the hour mark and Mamadou Sakho doing his hamstring in the dying moments. Glen Johnson was worse for wear and even the normally indefatigable Luis Suarez looked loagy — though the latter had two obvious penalty shouts waived away.
Would of, should of and could of's don't win matches — but they do tell a significant portion of the tale in our last two. Once again, refereeing decisions were a key factor in the outcome with a number of shocking incidents going unpunished. You won't hear me complain about officiating too often at all, but Howard Webb had a shocker; a studs up, late tackle from Eto'o on Henderson in the opening exchanges left the midfield man writhing in agony, Willian showed that he's a foul machine with no repercussions whatsoever, Terry and Gary Cahill both played the thug at least once and Eto'o got away with another when he tripped up Suarez — nowhere near the ball — as the Uruguayan tussled to regain possession from Cesar Azpilicueta in the Chelsea box.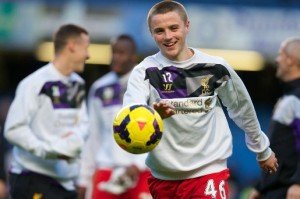 Much like against Manchester City, Brendan Rodgers has a case to complain; but unlike against the Citizens, his team was beaten by the better side with a head scratcher from the Northern Irishman leaving more than just me confused.
Rodgers has never been afraid to blood a youngster in a Premier League match, but introducing 19-year old Brad Smith to the melee after Allen pulled up injured was hardly called for. With Luis Alberto on the bench, and having already shown that he's a capable replacement, overlooking the Spaniard to hand the Australian a debut made little sense to me — unless it's a thinly veiled plea to the owners for replacements in January, which is something, I think anyways, that isn't necessary at all. One does not tinker or play silly games when you're a goal down at the Bridge — still, I digress.
We put in two good performances at two of the toughest grounds in the Premier League and missed out by mere margins on both occasions. Sakho's header pinging agonizingly off the crossbar with Petr Cech well beat was as clear an indication that things weren't about to go our way as Raheem Sterling ballooning Suarez's cross with Joe Hart nowhere to be seen. You don't always get what you deserve, but at this point, it would be hard to ask for more.
We've dropped out of the Champions League places for only the second time this season and had you offered me fifth place at the turn of the calendar I would of snapped your hand off for it. It's a tight race — we're only 6 from the top — and with a number of key players about to return, we're well placed to push on from here. We've already visited White Hart Lane, the Etihad, Stamford Bridge, Goodison Park and the Emirates Stadium; I think we're on the downslope, friends.
–Steven
Am I drunk? Are we going to implode in 2014 or is this the team that qualifies for the Champions League? Let me know in the comments or hit us up on Facebook or Twitter.