Liverpool (2) Hull City (0): Agger and Suarez Help Reds Start the Year Right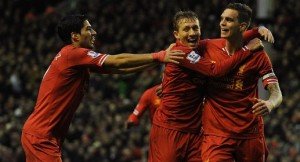 Daniel Agger's first Premier League goal of the season and Luis Suarez's 20th send Liverpool back into the Champions League places with a routine, if not laboured, 2-0 win over Hull City at Anfield.
The Reds have now bookended the festive period with a pair of wins after falling to their first back to back defeats of the campaign against Manchester City and Chelsea; their dominant form on home turf this campaign has seen them become a hot topic in the title conversation — something that hasn't happened since 2009 — and the three points today against a resolute Hull City side will keep them talking.
Brendan Rodgers described the second half of the season as "massive" for Liverpool as his side looked well placed to qualify for the Champions League for the first time since the 2008/2009 season; though they've been strong at home, it looked like Liverpool weren't about to start the year on the right foot in the opening exchanges.
If nothing else, Hull City are a hard side to break down. We saw it in the shock 3-1 loss at the KC Stadium and we saw it again today at Anfield; Steve Bruce knows how to set up his team, and despite the fact that they spent a good portion of the match kicking lumps out of our players, they put in a good account of themselves considering they were able to keep the hosts from scoring from open play. Though, that shouldn't have been the case at all.
Daniel Agger opened the scoring as the half wore on with a towering header from Philippe Coutinho's corner for his first Premier League goal of the season, but Liverpool should have been acres ahead by the break with Raheem Sterling, Coutinho and Jordan Henderson all missing gilt edged chances when they should have done far better. Alex Bruce was lucky to stay on the field after catching Luis Suarez in the chest while already on a yellow card, but novice referee Craig Pawson only played the advantage which ended with Henderson's poor miss.
The Uruguayan would get his revenge five minutes after the break with an absolutely stunning free kick beating both the wall and McGregor for his 20th goal of the season and third from dead ball situations. Steven Gerrard replaced Iago Aspas for the last half hour and it was smooth sailing from there with the visitors creating very little going forward and the Reds easily soaking up whatever they managed to conjure up with a triple change from Steve Bruce only moments earlier proving effective, but still not enough to really trouble their hosts.
Glen Johnson, who picked up a knock in the first half, was replaced by Kolo Toure and Victor Moses found his way onto the pitch for Raheem Sterling as the second half wore down. Coutinho twice went close before the final whistle with the Brazilian's shooting letting him down both times, but it hardly mattered; three points today was the target and we achieved it with minimum of fuss.
Obviously the points are what mattered, but a clean sheet is always nice to keep as they've been so hard to come by as of late. Liverpool were good on the back foot today, though their defensive performance can be put down just as much to Hull's inability to threaten as it can to their performance at the back — the visitors failed to put a shot on target today with Yannick Sagbo's shot into the Kop in the first half being the only one of note.
With fellow Merseyside rivals Everton drawing against Stoke City today, Liverpool leapfrog their neighbours and jump back into the Champions League places and keep touch with league leaders Arsenal. We've got a break from the Premier League this weekend with Oldham Athletic visiting Anfield in the FA Cup this Sunday which will hopefully give a handfull of our starting eleven a chance to recover; they could use a break. Every match from here on out is a big one…
–Steven
Everyone here at Paisley Gates would like to wish you and yours a happy and prosperous New Year.