Brendan Rodgers on Hull City Win: Post Match Interview and Finding Balance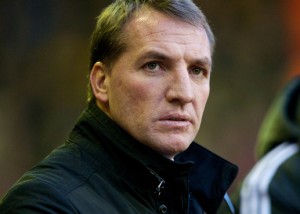 After back to back defeats to Manchester City and Chelsea, Liverpool got back to winning ways with a 2-0 win against Hull City at Anfield yesterday.
The win catapults us back into the Champions League places with cross town rivals Everton dropping points to Stoke City while the Reds ran out winners. Although it's wholly debatable whether beating Steve Bruce's side constitutes our best win of the season, Brendan Rodgers is ready to call it. "I said to the players afterwards that I thought that was our best win of the season," said the manager in his post-match press conference. I might be more inclined to point out our 5-0 demolition of Spurs at White Hart Lane, but the manager is entitled to his own opinion — no matter how misguided as it might be.
Video by SportMediaHQ
Despite their slow start to the game, Liverpool was again able to grind out a performance; two years ago, this contest probably would have ended as a scoreless draw, but the Reds were able to dig deep and punished the visitors with their proficiency from set-plays. With the transfer window opening yesterday, the boss was once again quick to point out how thin the squad is, but was also just as quick to praise the players currently at his disposal.
"But on the back of the games that we've had over this period – and to play with a lot of the same players against a team that won their last Barclays Premier League game 6-0 – we knew we were going to have to tough it out today and dig in" said the Northern Irishman. "We might not have always been at our best, but we got two great goals, had other opportunities and actually restricted Hull to no shots on target."
Liverpool have struggled to keep the ball out of the net this term and though they've often scored many more than they've conceded, not giving up a cheap goal to Steve Bruce's side is exactly what many Reds fans – including myself — were looking for. Rodgers, maybe sarcastically, didn't seem quite as bothered. "It is important, but there's no good having 15 clean sheets if you can't score!" laughed the Northern Irishman. "So it's about getting the balance in the team."
With the squad blighted by injuries, balance has been something that has been hard to find, but with the transfer window opening and a number of first team players – including Steven Gerrard – ready to or already returning from lay-offs, the Reds should be better suited to find it in the New Year. "Of course, you don't want to concede soft goals and thankfully we didn't" said Rodgers, who continued, "We worked tirelessly today to stop them getting anything." It goes without saying that that's a trend I, and my fragile heart, wouldn't mind seeing continue from here on out.
–Steven
Enjoyed this post? Please share it out on your social network of choice.