Oldham Athletic Build-Up: Johnson Talks Shrewsbury, Duo Could Return and a Minute's Silence for Harrison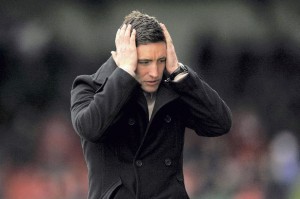 Liverpool gets a break from the rigors of the Premier League this weekend when Oldham Athletic visit Anfield as FA Cup action resumes. Brendan Rodgers will have revenge on the mind having dropped out of this very competition to the League One side last season when a shocking 3-2 reversal at Boundary Park sent the Reds back to Merseyside with their heads hung low.
Despite the "Magic of the Cup" proving it's alive and well to the Latics faithful, this is a vastly different side to the one that meekly stepped aside last season; Rodgers found a response to his side's 3-1 defeat to Hull City at the beginning of December with a 2-0 win over the Tigers at Anfield yesterday and one can only speculate what's going to happen when Oldham roll into town on Sunday. It could be a gruesome sight…
Coming off a 2-1 loss to Shrewsbury, Latics boss Lee Johnson admitted that the result didn't do them any favours ahead of a tricky match this weekend. "We have a lot to look forward to and I was hoping for a feel-good week before the Liverpool game, but the league is our bread and butter" said the 32-year old who was quick to draw on the positives despite the defeat. "People won't think it because we lost, but if you put together the highlights there were a lot of chances and a lot of melees inside their box" he said. "It's a sticky wicket at the moment, but our performance wasn't too bad. There wasn't a lack of effort, we just didn't get the breaks."
The breaks is exactly what Oldham are going to need if they want to get a result at Anfield, though they could be bolstered by the return of two key players in top scorer Danny Philliskirk and midfielder James Wesolowski. Much like Liverpool, the Latics have been hampered by injuries this term as they sit just above the relegation zone on goal difference following the loss to Shrewsbury, though they hold a match in hand over their closest chasers. Philliskirk, who has been struggling with a knee ligament problem, could be in line for a return at Anfield while boyhood Reds fan Wesolowski, who was part of the team that beat Liverpool 3-2 last season, will wear a special mask to protect his fractured cheekbones should he feature.
"It's massively important for us to get some key players back because it's difficult for a club like ours when you are missing four or five of them" said Johnson who is also hoping to bring a player in on loan in the January transfer window. "You are always looking at the market to improve and that would be the same even if we were top of the league," enthused the Latics boss. We have to go forward and continue doing the right things, hoping the quality comes and the luck turns."
Sunday may come a bit too soon for a change in luck for Johnson and company, but the two sides will find common ground before the match at least when a minute's silence is held for former player Wayne Harrison who played as a forward for both clubs. Harrison, who was once the most expensive teenage player when he made the jump to Liverpool in 1985, passed away on Christmas Day following a battle with pancreatic problems.
A statement from Oldham read: "Following the sad passing away of former Latics and Liverpool player Wayne Harrison the teams will wear black armbands in a sign of respect. There will also be a minute's silence held before the match." The striker shot to fame when the Reds paid £250,000 for the then 17-year olds services in 1985, but the youngster suffered a number of injuries throughout his short playing career that forced him into early retirement in 1991. Although he never became the Kop idol everyone hoped, once you're a Red, you're always a Red and hearing his name ring down from the stands one last time will be the perfect way to honour a player that we lost too soon.