Liverpool's 4th Round FA Cup Meeting to be Televised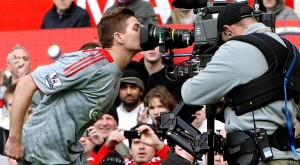 Word has come down the food chain today that Liverpool's fourth round FA Cup meeting with either Bournemouth or Burton Albion will be broadcast live on TV prompting a huge sigh of relief from Reds supporters everywhere.
Brendan Rodgers saw his side banish last season's ghosts with a 2-0 win over Oldham Athletic at Anfield on Sunday, but only those select few inside the stadium got to see anything with the match not being broadcast on TV and only audio commentary it being made available. It was a bit of a throwback to older, simpler days when technology didn't dominate the sports landscape – one that many Reds fans around the world are more than keen to let fall by the wayside.
There's a massive difference between listening to the match and watching it and it'll be nice to see the Magic of the Cup once again. In the meantime, Liverpool will learn their fate when Bournemouth meets Burton Tuesday evening in a match that had to be re-arranged following a waterlogged pitch at Dean Court. The match was only called off a half-hour before kickoff, which put many Brewers fans out after making the 300-mile roundtrip.
Since then, Bournemouth fans have raised over £3,000 to cover the travel costs for their rivals for the rescheduled meeting in an act of generosity that goes above and beyond. Whoever wins will have the honour, a rather lucrative one, of hosting Liverpool on Saturday, January 25 with kick-off penciled in for 12:45GMT — barring any waterlogged pitches, cattle stampedes, plagues of locust or other natural disasters of course…