Luis Suarez Snaps Up Premier League Player of the Month Plaudit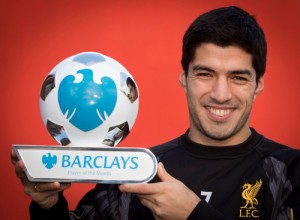 Was there really any doubt that Luis Suarez was the best player in the Premier League – if not the world – during the month of December? The unstoppable Liverpool forward bagged himself an astonishing 10 goals throughout the month to take his season tally to 20 and break an English top-flight record. Now, he's being handed his just deserts.
The Reds forward has been named as Premier League Player of the Month for December alongside Manchester City boss Manuel Pellegrini who was named as December's Manager of the Month after the Chilean racked up an impressive six wins on the trot – including a tight-knit 2-1 win over Suarez and company on Boxing Day at the Emirates Stadium. Liverpool go into their weekend meeting with Stoke City in 4th place and following his latest gong, the Uruguayan believes that Liverpool are well placed to qualify for the Champions League.
"It's so important when you work hard on the pitch and they recognize it when you win these prizes," the striker told Sky Sports News. "On the pitch I try to help Liverpool and I try to help the squad, and I think for confidence it is very good. If Liverpool continue at this level we can finish in the top four, which we want."
A return to the lucrative Champions League has been the one defining goal of Liverpool since being taken over by Fenway Sports Group and this is the first time since the 2008/2009 season that the Reds look primed to do it – with Suarez very much leading the charge on the pitch and in training. "To work with someone with that determination and desire and will to win – he's a real old-school striker. He's never, ever injured. He's never in the treatment room and he loves to train. He comes in every day to work" said Reds boss Brendan Rodgers when asked about Suarez during an interview with talkSPORT.
We're sure to see some more of that "will to win" this weekend when Liverpool travel to the Britannia Stadium to face Stoke City; we know how much the Potters faithful love our Luis.