Joe Allen and Mamadou Sakho Close to Liverpool Returns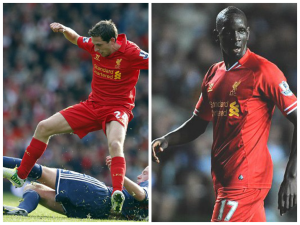 While Liverpool works behind the scenes to strengthen their squad during the January transfer window, they're about to be handed a boost in their ranks with midfielder Joe Allen and center half Mamadou Sakho on the verge of returning to the land of the fit and healthy.
The pair, who were injured during the Reds 2-1 reversal at the hands of Chelsea over the festive period, have both returned to full training with their fitness being closely monitored by the Melwood medical staff. In his pre-Aston Villa press conference, Liverpool boss Brendan Rodgers confirmed that both players were on the mend and could return to the team in the very near future.
"We've got Joe Allen back," said the Northern Irishman. "Joe returned in training and we'll just wait and see how young Sakho is over the next day or so." It was expected that Sakho would be fit for last weekend's trip to Stoke City, but with the Frenchman still sidelined and Daniel Agger also on the treatment table, Rodgers was forced to call upon Kolo Toure to partner Martin Skrtel in the heart of the Reds defence as they ran out eventual 5-3 winners.
We also saw a shift in the middle of the park with captain Steven Gerrard, who had just made a return from an injury of his own, playing a more withdrawn, holding role – a position that Allen could be employed in upon his return. Although it sounds like the skipper will continue in that role for the foreseeable future, the Reds have been linked with a number of defensive midfielders over the past month which could make competition for spots in the midfield that much more interesting.