Brendan Rodgers on Baggies Draw: Post Match Interview and Expecting the Win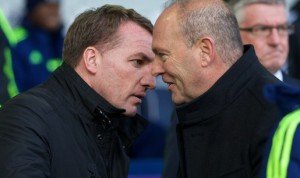 I suppose you only need to think back on Brendan Rodgers first Premier League match in charge of Liverpool to see exactly how far we've come. With the Reds falling 3-0 at the Hawthorns on opening day last season, yesterday's 1-1 draw with Pepe Mel's side doesn't seem quite as bad.
Still, on the back of our current momentum, it still doesn't look great. "It was just one of those unfortunate things where we made the mistake and we got punished for it" said Liverpool boss Brendan Rodgers in his post-match interview. "Hopefully in the future we'll see it as a point gained." Picking up a point on the road is always better than going home with empty handed — but the expectation that we're going to win has become a bit of a double edged sword.
Video by showmetheFOOTBALL
I'll be the first to throw my weight behind a team with a winning mentality; long time readers here will be tired of hearing me say that winning breeds winning all the time, but few will argue with it. In the wake of Tuesday's 4-0 win over Everton, three points at the Hawthorns against a West Bromwich Albion side stuck just above the relegation zone should have been a sure thing.
"It tells you everything about our expectancy now; we came here and lost, and lost at home to West Brom, last year. So to get four points out of six shows the improvement" said Rodgers as he harkened back to the 4-1 win over the Baggies at Anfield earlier in the season. "For us to be disappointed with a point away from home in the Barclays Premier League shows the growth of the team. We've done brilliantly up until this point."
He's not wrong either; Tottenham Hotspur, Everton, Arsenal, Manchester United and Chelsea have all failed to take full points against the Midlands side this season with champions elect Manchester City just scraping past them with a hard fought 3-2 win. Maybe Liverpool didn't exactly shine at the Hawthorns, but they didn't do much worse than their contemporaries.
The visitors looked to be cruising until a poor second half — and a mistake from Kolo Toure — gifted Pepe Mel's side with a route back into the match. "Sometimes it's the price to pay when you try to play football," shrugged the Liverpool boss who refused to heap blame on the experience Ivorian. "He shouldn't have received the ball in the first place, it wasn't the time for him to receive it. But that's part of our learning."
Although it sounds a bit like a dig at Reds 'keeper Simon Mignolet, the Northern Irishman remained mum on the topic of the Belgian shot stopper, choosing instead to point out the positives the system has shown up to this point."Part of that is to build the game from behind. Unfortunately, for the first time this season, we got punished for that" he conceded with grimace when asked about Toure's misfortune. "He is an experienced guy, so he obviously knows that it was a mistake."
You don't expect the Reds to not create chances at this stage in the game; we boast the second most goals scored in the league, but the Baggies were effective in upsetting our forward momentum yesterday and it showed. Still, Rodgers remains upbeat. "You can't expect them to score four, five or six goals every week – our offensive play this year has been scintillating. It was a really difficult pitch for us to get our fluidity on" said the Reds boss who has used the draw to have a big picture moment. "We've got four points from six this week in tough fixtures and it's another point away from the rivals in around and us. I won't be too concerned."
As long as we keep moving forward, I don't think we should be either — not quite yet anyways. Next weekend against Arsenal is a whole different story.
–Steven