Brazil Legend Cafu on the Lookout for Jon Flanagan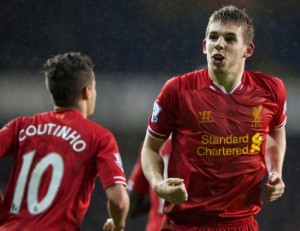 Since local lad Jon Flanagan broke into the Liverpool team, he's been called a lot of things – following his marauding goal against Tottenham Hotspur last month, a favorite around here has been "Flani Alves", but Red Cafu might take the cake after Brazil legend Cafu tweeted that he'll be on the lookout for the fullback in the future.
After recovering from a knock picked up in the win over Cardiff City back in December, the youngster has been straight back in the team with first choice defender Glen Johnson ruled out for an indefinite period of time. A commanding performance in the Reds 4-0 win over cross-town rivals Everton affirmed that the 21-year old hasn't missed a beat, and if a place in the Liverpool starting eleven wasn't quite enough for him, acknowledgement from a living legend should do the trick.
Cafu, who won two World Cups among so many other domestic honours during his days playing for both AS Roma and AC Milan, was pressed by a fan regarding the performances of Aston Villa and Scotland fullback Alan Hutton with the cheeky hashtag #bluecafu thrown in for good measure. In a completely unexpected response, the Brazil legend name dropped Flanagan; "I have fan tweets who say RedCafu is Flanagan at Liverpool. I must watch more Premier league to see both!" he quickly replied.
With the likes of Ian Rush, Kenny Dalglish and Jamie Carragher in regular attendance at Anfield, Flanagan plays in front of legends week in and week out, so we're not expecting any stage fright the next time he steps out on the pitch. With both Jose Enrique and Glen Johnson not expected back anytime in the near future, Flanagan is expected to keep his place in the squad when Arsenal visit Merseyside this weekend – hopefully we'll see him live up to that Red Cafu tag against the Gunners.