Luis Suarez Wants Arsenal Win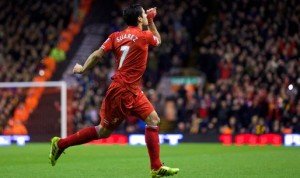 Premier League top scorer Luis Suarez has echoed the sentiments of fellow teammate Martin Skrtel and has called on Liverpool to beat Arsenal when the London side travel to Merseyside on Saturday.
The Gunners, who haven't lost at Anfield in their last five visits, go into the weekend with a slim two-point lead at the top of the table having been the form team for much of the season. Although Reds boss Brendan Rodgers ruled his side out of the title race yesterday, the Northern Irishman was also quick to point out that his side can still affect the outcome of the race — something Suarez is keen to have a go at.
"Arsenal are the leaders in the table and victory would be good for morale, give the whole squad an enormous injection and reduce the points difference at the top," said Suarez in the build-up to Saturday's crunch meeting. "We didn't have success at the Emirates so our objective now is to win and I believe we have that chance."
The Uruguayan almost ended up plying his trade in London after Arsene Wenger tried to capitalize on the want-away strikers desire for Champions League football with a series of failed bids. Suarez has since tied himself to Anfield with a new long term contract, but that doesn't mean his desire to play at the pinnacle of the game has gone away. "It has been such a hard season" he continued. "It's rare that everything could be decided on the last day but we must keep going and to ensure that happens we need results against the other main candidates."
It's clear that Luis hasn't give up hope of clinching Liverpool's first title of the Premier League era, but at this point, fourth place remains the objective — and beating Arsenal will give us a leg up in the all important race for Champions League football next season.