Arsenal Buildup: Wenger Doesn't Do Regrets, Wilshere Could Return and Sagna Moots Extension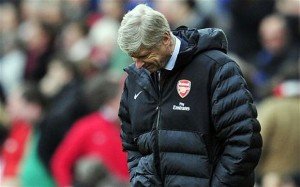 The Gunners will be looking to keep their place at the top of the table when they visit Anfield for the first of two meetings with Liverpool over eight days.
While the chatter early on in the campaign had Arsene Wenger's side running out of steam by this point, the North London outfit has kept the pace nicely and currently sits with a two point lead over both Chelsea and Manchester City at the Premier League summit. Although "the Professor" is enjoying a bit of a renaissance at the Emirates Stadium after a period of turbulence saw the Gunners faithful repeatedly call for his resignation, he's certainly not the most popular figure on Merseyside with a dogged – and ultimately fruitless – pursuit of Luis Suarez during the summer raising the ire of the Kop.
Despite missing out on the Uruguayan goal machine, the Arsenal boss has no regrets over his attempts to exploit the striker's desire for Champions League football. "Sometimes you have regrets when a player who played for you and scores goals or does well somewhere else" mused the Frenchman when asked to reflect on his pursuit of Suarez. "He was never our player. It is a situation that didn't come off and that's it."
The Gunners visit Anfield with the wind at their backs having easily dispatched Crystal Palace 2-0 last weekend, but Wenger knows that winning on Merseyside is a different proposition altogether. "Liverpool are in a better position now than they were before and they are a team who are fluent going forward and can put you under pressure. They have more players who can make a difference than they had in other years" said the Arsenal boss. A 1-1 draw away at West Bromwich Albion saw Liverpool fail to build on their 4-0 demolition of Everton earlier in the week and the North London side will be prepared for the onslaught as Brendan Rodgers looks to get his side moving forward again.
If all goes to plan, the visitors will be able to welcome Jack Wilshere back from an ankle injury in time for Saturday's trip to Anfield. "We might have Wilshere back and that's basically it" the long-standing manager confirmed. "It is important to have as many players back as possible in the squad. In the big games it is always decided by having the complete squad available." Despite the Englishman potentially handing them a much needed boost in midfield, Wenger will be without the suspended Mathieu Flamini, as well as injured pair Aaron Ramsey and new loanee Kim Kallstrom.
Arsenal, much like Liverpool, has taken some flack this year over a lack of signings in both the summer and winter transfer windows with both sides expected to go in search of a new fullback this summer. While Brendan Rodgers continues to give Barcelona prospect Martin Montoya eyes, the North London outfit has been a touch quiter on the subject, though they have confirmed that a new deal for Bacary Sagna is on the table.
"The main news is Bacary Sagna, that we expect (to sign)," said Wenger in the buildup to the Liverpool clash. The veteran fullback has been a mainstay in the Arsenal side since moving from French outfit Auxerre in 2007, though contract talks have stalled in recent weeks with the 30-year old rumoured to be holding out for a bump in pay – something the Gunners may want to consider if he doesn't get repeatedly skinned by the Reds deadly front-line on Saturday.
–Steven
Enjoyed this article? Share it out on your social media platform of choice