Rodgers Targets Good Performance in "Critical" Arsenal Clash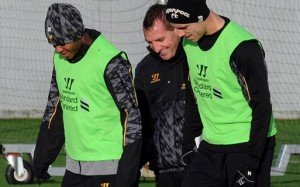 Although Liverpool boss Brendan Rodgers officially ruled Liverpool out of the title race yesterday, he's pegged Saturday's meeting with league leaders Arsenal as a "critical" match for the Merseysiders.
After dropping points in a 1-1 draw with West Bromwich Albion last weekend, the Reds go into the meeting with the Gunners with both Everton and Tottenham Hotspur, who meet each other on Sunday, in close pursuit. If Liverpool fails to pick up maximum points on Saturday, a win will allow the Toffees to leapfrog their closest neighbours, while Spurs will draw level with the fourth-placed side should they dispatch Roberto Martinez's men – two scenarios that Rodgers would like very much to avoid.
"Arsenal are leading the pack, they are top of the league and we are one of the sides who are chasing," the Northern Irishman said in his pre-match press conference. "There are only 14 games to go and every game is critical between now and the end of the season." The Reds still have to host the likes of Chelsea, Manchester City and Tottenham and visit Manchester United before the points are tallied in May with Champions League qualification hanging in the balance.
"Every team will look at their rivals and see if they can take points off them. We know if we win the game we go to 50 points and we go five points behind Arsenal" the Liverpool boss continued. "But we will go into as we normally do and concentrate on our performance level. It's about making sure the performance is right." Liverpool have ground to make up after failing to beat the Baggies last weekend, but Rodgers recognizes that a win over the Gunners will give his team a massive boost going into the business end of the season.
"We understand the magnitude of this game. It could really give us a push for the rest of the games" he mused. Hopefully it's not the kind of boost that we got from beating Everton – that one petered out a bit too quickly.