Rodgers Hails Skrtel as "One of the Best"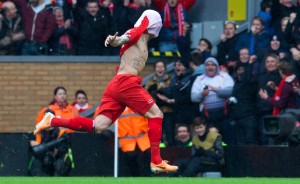 There's been a whole lot of glad-handing and back-patting going on in the wake of Liverpool's 5-1 destruction of Arsenal on Saturday; first, Rodgers went a bit over the top and called youngster Raheem Sterling the best winger in England, but the Northern Irishman has dialed back his proclamations a little, going with the more conservative "one of the best" when talking about Martin Skrtel.
The big Slovakian, who capitalized on two Steven Gerrard set-pieces to score a brace in the opening 10-minutes of the meeting with the Gunners, has been a revelation in the Reds backline since earning himself a recall to the side in the early days of the campaign. Although he looked sure to leave Merseyside during the summer, the 29-year old has since cemented his place in the side – something Brendan Rodgers is thankful for.
"He had a choice, he could either throw the toys out the pram, or he could sit down with the manager and the coaching staff and see what areas he needed to improve" said Rodgers in the build up to Liverpool's midweek trip to Craven Cottage. "Now, you see a player with great intelligence in his defence, his use of the ball is composed and he has taken on a real leadership role. His performance levels, consistently, have been of a high level."
"He is up there with the top centre-halves in this league, and I am delighted for him" continued the Northern Irishman who was once again quick to play down the renaissance his side is currently enjoying. "Make no mistake, I want to get in the Champions League, both for the club and for the city, but the focus is on improving the players, performance level, and you can see continuation in that development." With a revolving door of partners shifting in and out of the side, the Slovakian defender has been the one constant — alongside 'keeper Simon Mignolet of course — at the back for the Reds. After a turbulent first season under Rodgers, the Merseyside outfit look well placed to qualify for the Champions League for the first time since 2009.