Liverpool's Meeting with Fulham Could be Postponed Amid Travel Concerns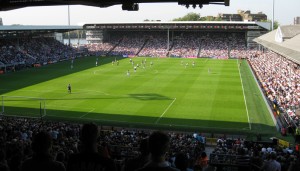 Liverpool's trip to Craven Cottage on Wednesday looks to be jeopardy of being rescheduled to March 26th with the proposed public transport strike in London set to throw travel plans for both supporter, ground staff and steward alike into disarray.
Both clubs now wait anxiously for a decision to be made whether the fixture will be postponed or not with a final decision expected early on Tuesday. A statement from Fulham read: "The Club has concerns over the potential impact that the strike may have on the ability of its safety staff to attend the ground in sufficient time and numbers to ensure that it is able to open the ground and effectively operate it, from the time that the gates are open to the public until the departure of all supporters."
With many members of the Craven Cottage ground staff employed on a temporary, part-time or casual basis, there are growing concerns that the fixture will not go ahead with transportation a major barrier – although there has yet to be any indication that Arsenal's meeting with Manchester United, also taking place on Wednesday in the Capital, could suffer the same fate.
Tube workers are slated to strike for 48-hours beginning at 9pm on Tuesday, and though talks are ongoing between Union bosses and those in charge of the London Underground Service, there has been a recommendation by the Safety Advisory Groups, who are in charge of spectator well being at the match, that the meeting should be called off if the worker action goes ahead as planned.
A statement from a Liverpool representative read: "We will inform supporters through our official channels as soon as more information becomes available regarding the fixture. The safety and well-being of supporters has to be the paramount concern of everyone involved in this process."
We'll update you as soon as an official decision has been made.