Liverpool Pair Lucas and Jose Enrique Expected Back Soon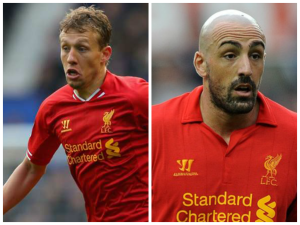 Prior to news breaking earlier this morning that Liverpool defender Mamadou Sakho has returned to France in a bid to hasten his return from a tendon tear, Liverpool Head of Performance Glen Driscoll gave an update on the French international defender, along with some brief news on the fitness of Reds duo Lucas and Jose Enrique.
In spite of a rash of injuries, the Anfield outfit go into tonight's meeting with Fulham in fourth place – a position that will only be strengthened with a number of first team players set to make returns over the coming weeks. Yesterday, Liverpool boss Brendan Rodgers revealed that defensive pair Daniel Agger and Glen Johnson had returned to full training, and Driscoll has heaped on the positive news by confirming that we'll see both Lucas and Enrique back on the pitch in the very near future.
The Brazilian, who has been sidelined with medial ligament damage after knocking knees during Liverpool's 2-2 draw with Aston Villa in the latter half of January, is progressing well. "Lucas Leiva was due to be in a brace for six weeks, according to specialists' opinion, but yesterday he was outside running just over three weeks in, which is fantastic and shows just how ahead of schedule he is" enthused Driscoll. Although the Reds have coped admirably in the midfielder's absence, depth from the bench remains a major concern – something his return will help quell.
Same goes for fullback Jose Enrique; the Spaniard, who has been out of action since November, is in the final stretch of his recovery before getting back on the pitch. "Jose Enrique also had a complex knee issue and following surgery is in the process of achieving his final strength gains before he can return to training" the Reds Head of Performance continued. "Without providing specific dates I would hope that by the end of the month we should start to get the likes of Jose, Lucas and Sakho back."
With Liverpool boss Brendan Rodgers looking to secure Champions League football for the first time since 2009, this news will come as music to his ears. The season is far from over and the more options available, the better…