"Dark Horse" Liverpool Getting Title Backing from London Clubs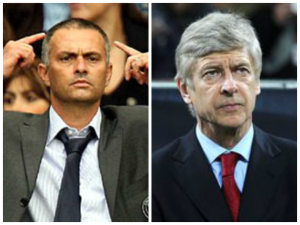 Ever since Liverpool thrashed Arsenal 5-1 and snatched a last gasp winner at Craven Cottage, the focus has returned to their title credentials – and everyone has an opinion.
Reds boss Brendan Rodgers ruled his side out of the race last week, and captain Steven Gerrard reluctantly backed him up, but the 33-year old lifetime Red is starting to toe the party line now that the gap between the Anfield outfit and the top of the table is closing. "We're in the mix" explained Gerrard in the wake of his stoppage time penalty against Fulham "It's still early days, there's a lot of football to be played and we're not going to get carried away. But we are in good form. We feel as if we're dark horses." He's not the only one who thinks Liverpool have a shot at lifting the Premier League trophy.
"Never say never," said Gerrard's midfield partner Jordan Henderson. "Obviously we're quietly confident in every game we go into that we can win and we've just got to keep doing that until the end of the season, and then see where we are." While the Reds players take a more subdued approach to their title credentials, Chelsea boss Jose Mourinho and Arsenal manager Arsene Wenger are looking over their shoulders as the Reds make a play for the top spot.
"When I say we're not the top candidate everyone thinks 'here he is again, with what you like to call the mind games'," Mourinho said. "But it's just my feeling. The League is amazing but Liverpool have a big advantage because of the fact they don't play in the Champions League." A lack of European football has hindered the Reds in their attempts to recruit top tier talent – something mega-rich Chelsea know nothing about – but their thin, injury hit squad has benefited from the extra time off. Wenger, who saw his team embarrassed at Anfield last Sunday, has echoed the Portuguese manager's sentiments. "If you win and you have no big injuries, it's better you play competitions," explained the Frenchman when asked about the effects of European football on the title race. "On a physical front, it's a huge advantage for Liverpool."
It would be a huge advantage – you know, if half our squad wasn't injured or not worth playing.