By the Numbers: Liverpool vs. Swansea City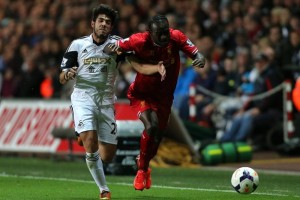 Liverpool are a completely different beast when they play at home; although they may have ran out a 2-2 draw in the reverse fixture, Swansea City will meet a far more confident side when they travel to Anfield this weekend.
The Reds have tasted defeat only once at home this season when Southampton shocked them back to reality in the early days of the campaign. Since then, it's been one win after another with only Aston Villa able to hold Brendan Rodgers side to a draw. Everton and Arsenal were both humiliated at the hands of Liverpool, and with quite a large gap separating hosts from visitors, Gary Monk's side could be in for more of the same.
When you compare the numbers, there's hardly any comparison here. Holding down a Champions League spot, Liverpool hold an immense 25 points over 10th placed Swansea City, having won over double the matches and scored exactly double the goals. The visitors aren't far off when it comes to goals conceded and they actually pip their hosts this Saturday when it comes to possession and pass accuracy, but the Reds not only have a better defensive record, but they've created more chances and are better far better at taking advantage of them with almost 10% more of their shots finding the net.
Although Simon Mignolet's Swansea City counterpart in Michel Vorm has played 11 less matches than the Reds 'keeper, their stats are pretty close – though the Dutchman pips the Belgian almost all categories. The lack of matches may be telling, but Vorm has kept only 1 less clean sheet than Mignolet and is forced to make less saves, and concede less goals, per match. He's also more accurate in distribution than the Belgian shot-stopper, though their claim rate is almost identical.
Martin Skrtel has been a wall since re-asserting his authority on the Liverpool pecking order; the big Slovakian has played the same amount of matches as Chico, but boasts some pretty impressive stats when you compare the two. The Reds defender dominates the Spaniard in total duels won and headed duels, while pipping him quite comfortably in tackles and take-ons. The only stat that Chico really pushed Skrtel on is pass accuracy — which the Slovakian still betters him at.
Comparing two long standing servants to their respective clubs, Liverpool captain Steven Gerrard comes out on top – though there's only a select few players that he wouldn't dominate. Having made 9 more appearances than Leon Britton, the England captain has 7 goals and 9 assists where the Swansea man has yet to manage any in 13 appearances this season. Gerrard doesn't sweep the stakes though with Britton winning more duels and completing more passes on average than his Liverpool counterpart.
Much like comparing Steven Gerrard to Leon Britton, comparing Luis Suarez to Wilfried Bony is no real contest. In an appearance less, the Uruguayan has found the net 15 times more than his Jacks counterpart and provided 7 more assists. If that wasn't enough, he's created a baffling 46 more chances. The only place Bony comes out on top is pass accuracy – but that 1% is hardly going to make a difference.
–Steven
All stats courtesy of the good people at Squawka.
Enjoyed this article? Well, hopefully you're not the only one. Still trying to figure out a better way to write these….stand-by.