Gerrard Praises Tough Guy Sterling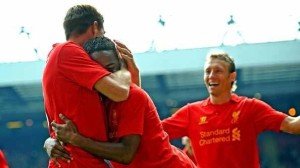 For a guy that has a song about being big and hard, Steven Gerrard sure is quick to talk about how Raheem Sterling — who is about 90lbs when he's holding two 10lb bricks — is the toughest player in the Liverpool squad.
While that raises immediate questions about how hard this squad actually is, it sounds like the skipper is doing a bit of PR for his fellow England man. "He's the toughest in our squad" said Gerrard when asked about the diminutive Reds winger. "I don't go near him in training because if I do, there is only one winner." Although you have to wonder how much cheek comes along with that particular statement, it's hard to deny that Sterling has grown in leaps and bounds this season — both literally and figuratively.
"The Arsenal game was an unbelievable performance from a guy of that age. I was just disappointed that he didn't go on and get his hat-trick" enthused the Liverpool and England skipper. "Now he has to do it every week and get that consistency in his game. If he gets that consistency, he is going to be a frightening talent."
Sterling, who picked up a brace against Arsenal in the 5-1 drubbing the Reds handed the North London outfit at Anfield earlier in the month, is being tipped as an alternative to the injured Theo Walcott for this summers World Cup, and Gerrard is backing him to be in South America come June. "Raheem has been in great form over the last couple of months and I'm sure Roy Hodgson is watching him very closely," he continued. "His form of late has been sensational and if he continues that until the end of the season, we will see him at the World Cup."