Suso Wants to Extend Almeria Loan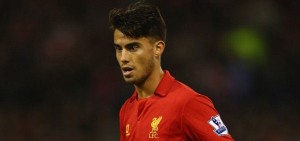 Much to the chagrin of many Liverpool supporters, youngster Suso – currently on loan at La Liga outfit UD Almeria – has confirmed that he'd like to stay on with the Spanish side past the expiration of his initial loan period.
The youngster, who has collected a number of plaudits since making the temporary switch to his native land, recently spoke about how happy he is in Andalusia and, if the Reds agree, how he would like to return on loan next year. An increase in playing time has served the 20-year old well, seeing him score two goals, create 22 chances and chip in with seven crucial assists in 22 appearances as Almeria struggle to stay in the Spanish top flight.
"I've got one season at Liverpool and I think it would be a good choice if I renewed and continued for another year at Almeria," Suso recently said. "But not everything that happens is up to me." With a number of injuries hampering the Reds throughout the season, it's been question why the youngster – and obvious attacking threat – was allowed to leave on loan, but he cleared that up, insisting that he was the one who insisted on leaving. "Liverpool wanted me to stay; they didn't say I had to go on loan" enthused the 20-year old. "But I know there are a lot of good players at Liverpool, maybe I wasn't going to start games. I am young — the most important thing right now is that I have to play."
Although he's made no mention of wanting a permanent switch, this request will certainly raise some eyebrows – especially given the Reds current position. With twelve matches left to play, Brendan Rodgers side are well positioned to qualify for the Champions League next season, leaving the Northern Irishman no choice but to expand the squad as they take up another front to fight on. You'd think Suso would rather be fighting for his place in a team playing in Europe's most prestigious club competition rather than battling relegation in Spain.