A Line in the Sand: Swansea City Preview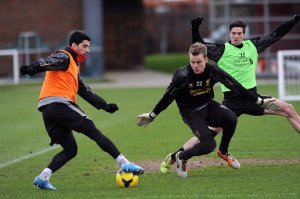 After crashing out of the FA Cup at the hands of Arsenal last weekend, Liverpool has been left with a singular focus for the remainder of the campaign – Champions League qualification.
That's not to say that we're not going to have a tilt at the title; while realistically we shouldn't be in this race, Brendan Rodgers has kept his side punching far above their weight and his side will have a big say in who claims top honours come the end of May. Still, that's neither here nor there, and with 12-matches left to play, there's still a long way to go – and the line in the sand starts with a meeting with a struggling Swansea City side at Anfield on Sunday.
While the Reds keep their eyes on top of the table prizes, the Swans are looking at a difficult run-in to the end of the season that could very well see them involved in the relegation scrap. They chose a hell of a time to switch managers with Garry Monk replacing Michael Laudrup under bizarre, and acrimonious, circumstances, though the player-manager navigated Thursday's meeting with Napoli in the Europa League quite well.
Although they held the Italian side to a scoreless draw – which they dominated throughout – doing that at home is one thing and nicking points off Liverpool at Anfield is a completely different proposition altogether. Goals, for one thing, have been hard to come by and with Michu still missing, it doesn't look like they're going to solve their problems in front of net anytime soon. On the positive side of things, Monk will be able to welcome back former Reds midfielder Jonjo Shelvey for the trip to Anfield after the 21-year old made a cameo appearance on Thursday night. The promising youngster opened the scoring in the reverse fixture, following up a mazy run with an assured finish, but it was his hot headed carelessness that lead to both of the visitors goals as the Welsh side missed out on a great opportunity to put three vital points in the bag.
What they wouldn't do for that win now; with a mere four points separating them, in a respectable 10th place, to Sunderland, in 18th, every single point from now until the end of the season really matters. The Jacks dropped out of the FA Cup last weekend after naming a weakened side against Everton and they could be on the end of another spanking from a Merseyside outfit if the Reds home form continues. Liverpool have been positively phenomenal at Anfield this season, slaughtering Arsenal 5-1 and putting four unanswered goals past their cross-town rivals in their last two home matches – really, it's the kind of thing that keeps managers up at night.
If Monk didn't have enough worries trying to figure out where his goals are going to come from, now he has to sort out how to keep Luis Suarez and Daniel Sturridge off the board. Of course, those aren't the only two Reds players he has to worry about, but with the Uruguayan looking to break the mini-drought he's been going through and Sturridge wanting to get back on the horse after his streak of scoring in eight straight matches ended last weekend at the Emirates, both strikers will be well up for this one. Michel Vorm, who is a decent 'keeper in his own respect, must be more than a bit worried after seeing his contemporaries in Tim Howard and Wojciech Szczesny so thoroughly embarrassed – he's a professional and all that, but the psychological fear of going up against two strikers so clinical must be troublesome.
Regardless, whether we absolutely smash the visitors or scrape by with a barely deserved win, the best we're going to do is three points – and that's all that matters. Without FA Cup football serving as a distraction from our league endeavors, a line in the sand has been drawn under Champions League qualification; we're in fourth place and we're not dipping any lower. Sunday is where we start to make our stand.
–Steven