Hodgson Wants Gerrard at Euro 2016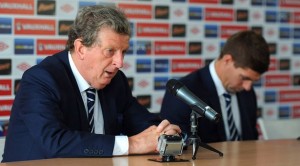 Although England, and Liverpool captain, Steven Gerrard is expected to call time on his international career following World Cup 2014 in Brazil this summer, Three Lions boss, and former Reds manager, Roy Hodgson is hoping to convince the experienced midfielder to stay on with the National side after the tournament.
Gerrard, who turns 34 in May, will be playing at his sixth major tournament this summer, and speculation is rife that he'll step down from his role in the national set-up in an attempt to prolong his playing career at Liverpool. Going into this weekends meeting with Swansea City, the Reds are well placed to qualify for the Champions League for the first time since 2009 — a competition that the skipper will be desperate to take part in.
Despite all that, Hodgson thinks his captain can keep on turning out for England. "At the moment there has been no slowing down in his play" said the owl-faced miscreant when asked if Gerrard could lead England into Euro 2016. "Who knows what the future will bring? Time will tell." Time is something that the Liverpool man doesn't have a whole lot of. With the Anfield outfit enjoying a resurgence under Brendan Rodgers, the Merseyside born and bred midfielder could have a real shot at claiming the one domestic trophy that's eluded him over his illustrious career — the Premier League title.
What sort of role Gerrard might play in the England side in the future is up for debate, but Hodgson has been keeping a close eye on his new position in the Liverpool set-up. "So I think a player like Steven, who is such an all-round player, will give you good attacking work and good defending work" explained the senile old codger when asked about the new deep role handed to the Captain. "Whether that spares him running or not, I don't know. Sometimes you think he is not doing as much there but you might be surprised."
Real inspiring stuff, Roy.