Jordan Henderson Leadership Impresses Reds Boss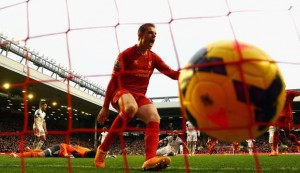 They were only his second and third goals of the season, but Jordan Henderson's brace in yesterday's 4-3 win over Swansea City couldn't have come at a more opportune time.
Although the Reds continued to push the visitors, the goal that would break the 3-3 deadlock remained elusive until the 23-year old followed up a Luis Suarez volley – and after seeing his initial effort saved by Jacks 'keeper Michel Vorm – picked up his own rebound to slot home. "Jordan showed great leadership today," Liverpool boss Brendan Rodgers beamed after the match. "You could see him driving the team on." Once again, the Reds number 14 was a crucial part of the set-up and his vast improvement hasn't gone unnoticed.
"His first goal was an outstanding goal. We've been talking to him about getting up there, because in training his finishing is sublime. He practises and he works at it" continued the Anfield boss. "But what was really pleasing for me was his second goal. We've been telling him to get into the box and arrive in there, because he's got the energy and the legs to do that."
Henderson has enjoyed a breakout season in the Liverpool squad this season after being relegated to bit parts for large swathes of last season. He's created 49 chances for his teammates this campaign – picking up six assists in the process – and he's now looking like he has the confidence to have a pop at goal as well. "It was a terrific reaction save from Michel Vorm from his first effort on goal and then he's followed in and kept going and got his finish and that was a really important goal for us" enthused Rodgers. "He was outstanding today."