Southampton Buildup: Pochettino Talks Paris, Luke Checks the Caller ID and Lovren Wants European Football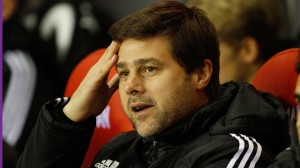 It's been a mixed mag around St. Mary's as of late; the early doors had Southampton as viable contenders for a top four finish, but a patchy run of form has sent them climbing steadily down the ladder.
Although they're still in right half of the table, they're looking much more like rank outsiders for a Europa League spot rather than the Champions League chasing outfit they were being touted as when they took full points at Anfield back in September. A 3-1 loss to West Ham United, coupled with a shock exit to basement dwellers Sunderland in the FA Cup fifth round, has dwindled the Saint's once promising outlook — though manager Mauricio Pochettino is keeping his dreams alive. Problem is, they may not be at St. Mary's.
"Why not? I liked coaching Espanyol where I was also a player" said the Argentinean when asked if he'd be interested in taking over at mega-rich side Paris Saint Germain. "So yes, I'd have the opportunity to lead one day Paris." To be fair, these days, you'd be hard pressed to find a manager that would turn down the French outfit. Pochettino, who spent three years with the Parisian club, still holds it in very high regard; probably higher now that they're loaded.
"I enjoyed a lot my spell there and I had the chance to be captain of the team. I spent three wonderful years" he continued. "I always look at the results of the club and their evolution. They are at the height of the other top teams in Europe and I hope they will win the Champions League this season."
Following a very high profile row with the owners of Southampton, Pochettino's future on the coast looks to be in jeopardy with the Argentinian supposedly in high demand — just like his prize fullback Luke Shaw. The youngster, who earned his first England call up for the friendly with Denmark on March 5th, has been linked with a number of high profile English clubs with a substantial bid for his services expected to come in over the summer.
Three Lions boss, and owl lookalike, Roy Hodgson said in the buildup to the match that he was going to experiment with the squad. Shaw joins fellow Saints compatriots Rickie Lambert, Adam Lallana and Jay Rodriguez in the squad for the friendly with the Danes and the 18-year old is expected to get at least a cameo run out in the England shirt before the night is through.
While the youngster gets his first taste of international action, fellow defender Dejan Lovren, already a grizzled veteran for Croatia at the tender age of 24, has his sights set on a different competition altogether — Europa League qualification. The Saints, who sit eleven points off fifth placed Tottenham and a mere six off of Manchester United, have a job to do if they want to play on the continent next season with just over ten matches left to play, but Lovren believes the 9th placed Saints are up to take a run at it.
"We are really happy with where we are right now, but I think we can do much better, and we have a lot of games still," said the 6'2 defender. "We want to finish in the best position that we can, so I hope it will be the sixth place, for the Europa League. "That would be an amazing place for us, and we can achieve it."
The defender, who was on the bench to watch his side get mowed over by West Ham, is expected to start against Liverpool on Saturday after returning from a ankle ligament problem. "We need to win, we need to take every point, every possible point now, for the next games" he continued. "But I think and I believe, like the others, so we can."
We'll see what Brendan Rodgers and the Reds have to say about his belief at St. Mary's tomorrow.
–Steven