Pepe Reina Unlikely to Play for Liverpool Again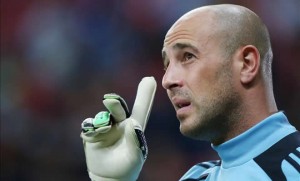 Although Pepe Reina has admitted that his future in Italy is uncertain, Liverpool boss Brendan Rodgers has moved to squash suggestions that the Spaniard could return to Merseyside and challenge current incumbent Simon Mignolet for the number one spot.
The Spanish shot stopper rejoined former Reds boss Rafa Benitez on loan at Serie A side Napoli at the beginning of the season, and though he initially felt aggrieved to leave Anfield under such conditions, he eventually warmed to the idea of plying his trade somewhere else. "I'm very happy here and my family's happy too," Reina told Piuenne television last week when asked if he'd like to stay with the Italian outfit past his initial loan spell. "I'll be here right to the end, but not even I know what will happen after. I'm here now, but I've got to return to Liverpool, although it's unlikely I'll stay there" — sentiments echoed by Rodgers.
"He wrote a goodbye letter didn't he?" was the scathing reply Rodgers gave the Liverpool ECHO when asked about the likelihood of the Spaniard playing for him again. "Obviously Pepe made it very clear when he went to Napoli that he was looking to move because he penned a great big letter saying he was going to work with the best manager that he'd worked with (Rafael Benitez) and thanked him for his time for Liverpool. So, for me, it probably sounded like he'd made his decision there."
As questions around the competency of new 'keeper Simon Mignolet continues to swirl, the Reds have been linked with a number of shot stoppers — including an audacious swoop for departing Barcelona stalwart Victor Valdes. As horribly unlikely as that seems, with the Reds well placed to qualify for next seasons Champions League, Rodgers could opt to seek out a player with a bit more experience. By the sounds of it though, that player won't be Pepe Reina.