Cissokho Has No Regrets Over Liverpool Move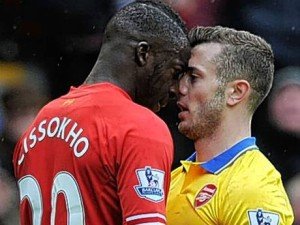 Despite the obvious temperature difference between sunny Spain and gloomy ol' England, on-loan Valencia fullback Aly Cissokho has no regrets over moving to Liverpool on loan.
The French defender, who seems to be coming out on the other end of a patchy run of form, has done admirably standing in for the injured Jose Enrique after swapping La Liga for the Premier League back in August. With only eleven matches left in the season, the Reds look well placed to qualify for next season's Champions League, and though Cissokho is yet to learn whether he'll still be at Anfield to share the spoils of the season, he told French newspaper L'Equipe that he's enjoying his time on Merseyside.
"No regrets, none!" said the fullback when asked, rather sarcastically, if he regretted trading sunny Valencia for gloomy Liverpool. "(You can) say that it is less a holiday destination but I came for the job. And Liverpool is a legendary club, historical." The 26-year old has been a long term target for the Anfield outfit with links to the player stretching back to his time with Portuguese powerhouses Porto, and throughout all the years and all the missed opportunities to make a move to the Premier League, he's always talked reverently about Liverpool – a side he respects very much.
"On match days, the city lives for it, much more than anywhere else I've played" he continued. "You feel that football is the heart of every home. The stadium is always full. The songs, the atmosphere is awesome. This is the Champions League every weekend." Although the fullback may not turn out to be the caliber of player we need, he's certainly got the heart of one.