Three Year Contract and a £60mil Transfer Budget Awaits Rodgers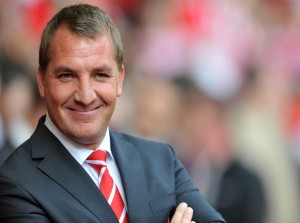 According to media reports, Liverpool boss Brendan Rodgers has a whole lot to look forward to if he secures a spot for the Reds in next seasons Champions League – though with the World Cup looming this summer, the clock is ticking.
The Northern Irishman, who admitted that he's been left in the dark so far regarding his future on Merseyside, is expected to open contract talks with Liverpool primary owner John W. Henry before the end of the season, and early door rumours have the boss getting a healthy bump in pay along with a brand new three year deal. Earlier today, Rodgers talked about pairing success with the stylish brand of football he's beginning to instill in the culture at Anfield and he's apparently going to have a substantial budget to do that with.
Although it's unlikely that we'll see the Anfield outfit start paying over the odds for transfer targets, a reported £60mil budget and the allure of Champions League football will go a long way towards signing up the caliber of player that were thumbing their nose at a move to Merseyside only last summer. The Reds saw a number of targets go begging over the last two windows with the likes of Henrikh Mkhitaryan and Mohamed Salah choosing to ply their trades at clubs where they'd see not only an increase in their wages, but a chance to strut their stuff on the biggest stages in Europe – something the Reds were unable to offer.
With ten matches left in the season, Liverpool are well placed to return to the Champions League for the first time since 2009 and have a squad boasting a number of players that the best in Europe would be proud to play alongside. With the World Cup in Brazil on the horizon, player prices are likely to fluctuate based on their performance at this summer's showpiece event. Although it's only rumours at this point, getting Rodgers signed up and bids in early could be crucial to the Reds success this summer.