Allen Loving Liverpool's Aggressive Stance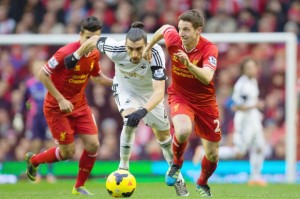 If Liverpool can turn in the kind of performance that saw them trounce Arsenal 5-1 at Anfield last month, then this weekend's trip to Old Trafford will be a breeze.
Reds boss Brendan Rodgers is expect to call on Joe Allen for the short jaunt up the road after the Welshman's excellent displays holding down the midfield against both Swansea City and Southampton earned him plaudits all around. Although the Anfield outfit may not be able to take the kind of show that saw them decimate the Gunners on the road, that doesn't mean that the 23-year doesn't want to try. "I don't think I've seen a better performance in 20 minutes of football from the first whistle" he told the official site. "Our target now is to make sure we do that in every game."
We've seen Liverpool dramatically transformed under Brendan Rodgers, quickly shifting from their emphasis and style of play under the Northern Irishman — something that suits Allen just fine. "From the manager's point of view, a lot of people talk about the passing game that we like to employ with the ball at our feet," he continued. "You can obviously see the benefits of it when you get it right – such as the game against Arsenal at Anfield. It was similar to the derby in that we really took the game to Everton from the kick-off." Those are two results that won't soon be forgotten on Merseyside, and should everything gel perfectly this weekend, we could be on for another memorable match.
"That's probably the best way to approach any match – to have an aggressive stance from start to finish. Some people might argue against that and be happy to shut up shop at 1-0 or 2-0" enthused Allen. "But I feel that if you try to do that, you're always giving the opposition a chance to get back in the contest. With teams like Arsenal, for example, you don't want to give them any opportunity to do that. In many ways, that was why it was such a perfect display."