Agger Thinks We're Capable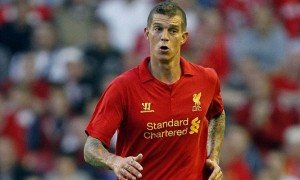 With Sunday's trip to Old Trafford looming large on the horizon, Liverpool find themselves in a peculiar spot; it's been five years since they took a serious run at the title or even been in with a shout of qualifying for a Champions League at this stage in the season. Although the room for error remains slim, Reds vice-captain Daniel Agger isn't troubled by it.
"When you play for Liverpool Football Club, there is always pressure and that won't change between now and the end of the season," the experienced defender told the Liverpool ECHO. "Part of playing for this club is being able to handle that pressure. I think the players here have proved over the course of this season that they are more than capable of doing that."
Sunday's meeting with a struggling Manchester United side is another opportunity for this team to put down a marker – but when you get down to the nitty-gritty, at this stage in the season, it's more about points than pride. "We are in a good position but we are only in March. There is still a long way to go and a lot of points to play for. We haven't achieved anything yet and we need to keep going over the final 10 games" he explained. "We have some big games against teams close to us in the table. They are games we have to win."
Tottenham Hotspur, Chelsea and Manchester City will all visit Anfield before the season closes out, and if the Reds want to stay in the thick of things, they're going to have to pull points out of each of those games. "This time we were clever and that was what got us the three points. If you want to be near the top, you need to be clever" Agger said when asked about winning at St. Mary's for the first time in eleven years in Liverpool's last match. "I don't know if we needed to send out a message, we just needed to do it for ourselves. We know we are a good team." Good team or not, they're going to have to be a resilient one – things aren't getting any easier from here on out.