Brendan Rodgers on Norwich City Win: Post Match Interview and Ticking Boxes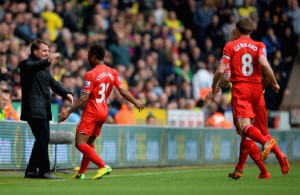 Three matches left to play and the big Red machine keeps rolling on; the 3-2 win at Norwich City yesterday was the Reds eleventh on the hop and opened a five point gap over second placed Chelsea. Goals from Raheem Sterling on either side of the half sandwiched Luis Suarez's 30th of the campaign, but the hosts made things sticky with Gary Hooper and Robert Snodgrass pulling goals back for the Canaries.
Simon Mignolet saved a header from substitute Ricky van Wolfswinkel in the closing stages to ensure Liverpool made the trip back to Merseyside with smiles on their faces; though none, I would imagine, were quite as wide as Reds boss Brendan Rodgers. "It was a brilliant win for us," reflected the Northern Irishman in his post-match press conference. "In the first 15-20 minutes, we got our two goals and carried on through the first half. We showed great quality and were nerveless in our possession and control." What he was trying to say is that we looked like champions.




Video by showmetheFOOTBALL
If you're going to win the title, you've got find ways to win even when you're not playing well — something we saw quite a bit of today. An error from Mignolet handed the hosts their first, while John Flanagan falling asleep at the far post saw Snodgrass nod in their second. "Give credit to Norwich, they changed their shape to 4-2-3-1 in the second half" explained Rodgers. "They got a goal that gave them and the crowd a little bit of momentum, and it was always going to be a tough game for us."
After downing the Canaries 5-1 in the reverse fixture, there looked to be another rout on the cards as the visitors raced to a two goal lead within the first ten minutes, but with the long shadow of relegation looming large in the distance, the fight in Norwich's game was evident and will serve them well in the weeks to come.
On the flip side, Liverpool ticked off one of the many boxes on their list of objectives for the season. "It was an incredible victory and big congratulations to the players because we can finish no lower than third, which guarantees Champions League football" enthused the Reds boss. "At the beginning of the season, I think everyone thought it would be a struggle for us to even get to fourth, so it shows the magnitude of the effort the players have put in, to have at least guaranteed that at this stage and have Champions League football at Anfield again next season."
Last season, Rodgers made a point to say that he wanted the team to score twenty more goals during their next campaign. With 96-goals already secured — a 25-goal difference already — it's safe to say we've got another box already checked off. "We want to be one of the very few teams to reach 100-plus goals in a season, so we've still got other objectives" continued Rodgers. "But we've cemented the first objective, which was to qualify for the Champions League. Now we will look forward to next weekend, which will be a great atmosphere at Anfield."
With Chelsea in town and the title within touching distance, it'll be the Kop heard around the world…
–Steven