Ian Ayre Bullish on Liverpool Transfer Kitty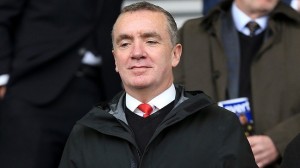 There was a huge sigh of relief following Liverpool's 3-2 win at Norwich on Sunday. Not only did the three points ensure that the Reds would stay top of the Premier League for another week, it also meant that they could finish no lower than third — automatically qualifying them for next seasons Champions League.
A lack of European football was a major hinderance as the club looked to strengthen the squad last summer, but a return to the continent adds both an extra layer of incentive for players to move to Merseyside and money in the bank with a rumoured £40mil being handed to Rodgers this summer. "It has always been tougher in the transfer market when you are not competing at the highest level," said Liverpool Managing Director Ian Ayre. "That is always a factor. We have always been fortunate to be able to bring great players here despite that, but there is no question it opens up a few doors for us and makes it a little bit easier."
Although the Reds look to be the odds on favorite to capture their first title of the Premier League era, competing in Europe next season means that the squad will need to be both strengthened and expanded — something that's never, ever cheap. "It is fairly obvious that we set out with an ambition to get into the Champions League. It will cost what it costs when we decide who the manager wants to buy" he continued with an obvious degree of satisfaction in his voice. "There is no question we always expected the squad we need for next season will be very different to the squad we have needed for this year when we were not playing in Europe."
After finishing a disappointing seventh last season, pundit and punter alike spent a good portion of this campaign playing down Liverpool's chances of qualifying for Europe despite their scintillating form. "It is what we set out for, but if you were taking bets at the start of the season, you would have said fourth place would be a great achievement" enthused Ayre. "Now we are guaranteed third and we are determined to push on. It is all important for what we are trying to achieve."
With the main objective already achieved, Liverpool boss Brendan Rodgers will be looking to move on from here, and with Champions League football assured for next year, the sky's the limit.