What Better Time Than Now?: Chelsea Preview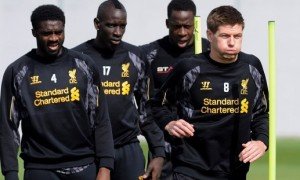 One game at a time, three more times; we've won nothing yet, but we're so agonizingly close. After spending the vast majority of our season playing down our chances of winning the title, it's hard to fathom us not claiming our first title in 24-years — and that's the scary part.
The football Gods build you up just as easy as they knock you down and it could very well be Chelsea that send us sprawling on Sunday. Forget the talk of weakened teams and European priorities; none of that matters. Our fate is in our hands, not theirs, and if we can't find that other level that we've pushed ourselves too so many times before, we only have ourselves to blame. This isn't a match where we need throw down a marker and stake a claim. We've done that already; this where we take what's rightfully ours.
We're seven points away from claiming the title and a mere three points away from being assured no less than a second place finish. Tomorrow's meeting with Chelsea isn't about throwing down the gauntlet and announcing our arrival; we've already done that. With Champions League football for next season wrapped up and the likes of Arsenal, Tottenham and Everton smashed en route to achieving our primary objective, the world already knows we're here.
It's been eleven wins on the hop for Brendan Rodgers side, but they've not come without a price. While some of them have been nothing short of formalities, you just have to think back to last weekend's 3-2 win over Norwich City to be reminded how precarious a fair number of them have been. A week before the trip to Carrow Road, it was another 3-2 victory that saw them pull away from Manchester City and a nervy 2-1 in which they edged out a dogged West Ham United side came previous to that. Luck has never not been a factor in the title race, and though the Reds have been on the receiving end of their fair share, both you and I know it only lasts so long.
Regardless of who Jose Mourinho names in his starting eleven, they're odds on likely to have cost more than their counterpart in a Red shirt and have more experience to boot. Despite their collective problems this season, you have to remember who they are and why they're here; a team that's into the semi-finals of the Champions League and occupying second place domestically this late in the season doesn't do it by accident.
Even if the Portuguese manager has other priorities, any suggestion that he's just going to throw this one into the wind is nothing short of a rookie mistake. His Chelsea side may now be — surprisingly — the dark horse in this race, but they're still very much in it and Mourinho will do whatever he can to keep them fighting on both fronts. Injuries may be plaguing them at an inopportune time with the likes of Petr Cech, John Terry and Eden Hazard injured, but they still pose a gigantic threat.
Even with our form at Anfield driving us forward, this will be a massive match, and not just because it's the Blues in town, but because we're teetering on the precipice. Win, lose or draw, nothing is decided quite yet; it's been a miraculous season regardless, but to watch it all slip away would shatter me beyond comprehension — which is why I know the we're going to be prepared.
"We go again" was the rallying cry from Reds captain Steven Gerrard for the meeting with Norwich City and the message won't have changed too much since then. If you think that you'll be upset if Liverpool miss out on the title, just think what it'd do to the Skipper. All those years of waiting? All those missed opportunities? He's ready to take this chance and there's little doubt he won't sleep until the rest of the side is as well.
The time is now and the place is Anfield; we're ready for whatever comes our way.
–Steven