Martinez Isn't Doing Anyone Any Favours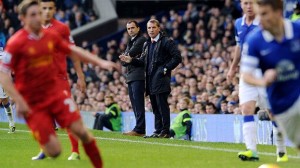 Last weekend's 2-0 defeat the hands of Chelsea took the title race out of Liverpool's hands. With two matches left in the season, the Reds remain at the top of the heap for the time being, but with a match in hand, Manuel Pellegrini's Manchester City side could overtake the Merseysider's should they win their remaining matches.
As the Anfield faithful wait to visit Crystal Palace on Monday, they're left in a bit of an awkward situation — hoping crosstown rivals Everton win on Saturday. The Toffee's, who are chasing Arsenal for the last Champions League spot, square off with the Citizens in what will be one of the most watched and heavily analyzed Premier League matches of the weekend. Although a win would put fierce rivals Liverpool back in the drivers seat, Blue's boss Roberto Martinez has been unequivocal in his assertions that his side are going out to win for themselves and not for anyone else.
With Everton a mere four points off of the fourth-placed Gunners, the Spaniard isn't about to worry about how a win would affect the other teams in the league. "Helping other teams is not the way we do things," said the Everton boss. "We focus on trying to win for ourselves." The Toffee's have never made it to the Champions League proper, having been knocked out in the third qualifying round in the 2006 – 2007 season under David Moyes.
Having another shot at qualifying for Europe's most prestigious club competition would be another massive step under new boss Martinez — but first, they'll have to beat Manchester City. "It is going to be a phenomenal test and we want to finish really strong at home," continued the Spaniard. "There is no doubt of our integrity – we want to win every game we go into."
There's little doubt that this match is as important to one club as it is to another. Taking points off Manchester City won't assure Liverpool of the title; there's still quite a bit of work for them to do there. But a spot in the Champions League would be massive, both financially and in terms of recruitment for Everton and Martinez knows that better than most. "We are looking at ourselves because these are precious points" added the Everton boss. "We can't afford not to give everything we have."