Crystal Palace Build-Up: Tony Ain't Makin' Plans, Bolasie Can't Believe It and Dikgacoi Wants to Stay Awhile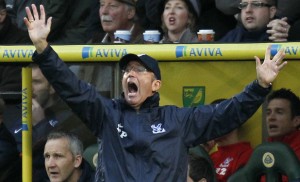 It's official: Tony Pulis is the manager of the month. The former Stoke City boss, whose teams had more hooves than a horse and were about as pretty as the barnyard animal's backside, scooped up the prestigious award after guiding mid-table Crystal Palace to wins over everyone that mattered — and a few that didn't.
Being able to refer to the Eagles as mid-table is a feat in itself. The London outfit, who have failed to hang-on to their top-flight status in each of their four previous attempts, have already secured Premier League football for next season with two matches left. Considering they were almost certain to be going down when Pulis took over for Ian Holloway in October, the Welshman will still get to boast about never being relegated; for the time being anyways.
In the meantime, he can bask in the the glory of his triumph and not worry about making plans for Liverpool, who visit Selhurst Park on Monday. The league leaders were tripped up against second placed Chelsea last weekend as the Blue's ended their eleven match winning streak with a 2-0 victory.
Despite the fact that the Reds scored an astounding 38-goals during what was an immense run of form, Pulis isn't bothered trying to sort something special out for the visitors. "We will play the way, we play. We will do what we have always done and it's been successful with the group that we have got" said the Eagles boss in his pre-match presser. "We are very pleased with the way players have been playing over the past three to four months and I don't see any reason to change it."
Since taking over in London, the Welshman has guided his side to 39 points from the 25 games he's presided over, including taking scalps from the likes of Chelsea and Everton. Not only that, but he's also shedding his reputation as a hoof merchant with players like Yannick Bolasie helping him embrace the beautiful side of the beautiful game.
While Pulis works on his style, Bolasie has been working on his confidence with a wry smile now that safety has been secured — something everyone at Palace owes to Pulis. "Every pundit had written us off, said we'd be relegated by Christmas. Secretly we all thought it would be a long season, especially the way the results were going" said the 24-year old. "The gaffer has changed a lot and we are playing unbelievably."
Much like their visitors on Monday, Palace saw their winning streak ended last weekend when title chasing Manchester City turned them over 2-0 at Selhurst Park. As the Eagles prepare for their second consecutive season in the top flight for the first time, it's safe to say that Pulis will be looking to bring in some more of his own players as he looks to shape the team closer to his image. While the likes of Bolasie should be safe from that, midfielder Kagisho Dikgacoi may not — even though he wants to stay in the Capital.
Despite holding "brief discussions" with the club, the 29-year old is yet to nail down a new deal, and with his contract ending in the summer, he's keen to get negotiations started. "For now, we haven't really discussed anything although I know that the club wants to hold on to me. However, I'd like to fully focus on the two remaining games of the season without any distractions" he explained. "I'd love to stay and take my game to the next level next season, instead of starting with new friends in a new environment. I also don't have any reason to leave Palace as everyone, from the supporters, technical team, management, teammates and everyone associated with the club, have been great to me."
Dikgacoi could return to the starting line-up on Monday after sitting out last weekend's meeting with the Citizens. If he's going to impress the boss, there's few biggers stages to do it on than against Liverpool — besides that, with only one match left in the season following Monday's outing, he's running out of time.
–Steven