Flip a Coin on Sturridge Fitness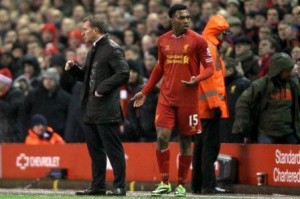 With last weekend's 2-0 loss to Chelsea firmly behind them, Liverpool will be looking to stay in the title race with a pair of wins in their last two matches, and as they prepare to meet Crystal Palace on Monday, the fitness of striker Daniel Sturridge remains a hot topic of conversation.
The former Chelsea striker was introduced in early in the second half with the Reds trailing 1-0 after a Steven Gerrard error gifted Demba Ba the opener. After being unable to participate in a full training session during the week, the 24-year old looked a bit on the rusty side, failing to link up well with either strike partner Luis Suarez or a very much in-form Raheem Sterling as the attacking trio was continually stunted by a resolute Blue's backline.
Although he's still yet to join in training proper, Reds boss Brendan Rodgers is confident that the other half of his star strikeforce will be ready for the trip to Selhurst Park. "Initially they thought the hamstring injury was not going to be as bad as what it was," Rodgers said before admitting that introducing him against Chelsea didn't have the desired impact. "He has trained with the medical team and he worked hard to push himself to make an impact against Chelsea but it was clear that impact was not going to work for us."
With the striker yet to resume full training, you can flip a coin on whether he'll actually feature on Monday — from the bench or otherwise. For the time being though, Rodgers is putting on a brave face. "He has been in a much better phase this week and feels a lot better" confirmed the Reds boss. "He will certainly be in contention for the game on Monday." Contention to sit on the bench? That wouldn't be much of a surprise…