Steven Gerrard Set for Liverpool Contract Extension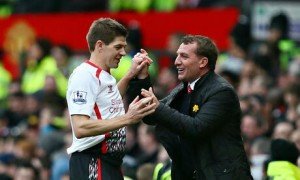 With Liverpool skipper Steven Gerrard's contract set to expire at the end of next year, Reds boss Brendan Rodgers is wasting no time in tying the long-serving captain down to a new deal.
With Champions League football already secured for next season, the Northern Irishman will be looking to hang onto at least some of the older players who have experience playing on the biggest stage Europe has to offer. With both a Champions League and Europa League trophy to his name — among countless other domestic and individual plaudits — the 33-year old midfielder certainly fits the bill. Although retirement is in his future, a new 12-month contract is on the table which would see him stay at the the only team he's ever played for until he's 36-years old.
With the skipper excelling in his new deep-lying playmaker role, Rodgers is keen to have the Merseyside born and bred midfielder continue as the heart and soul of the team. "He has dropped into a new position and played it seamlessly. His intelligence in the game is second to none. He is improving all the time" said the Liverpool boss. "It's one where he has been brilliant for me as a captain and as a player this season and I would like that to continue."
And, it looks like it will, with the boss confirming that a new deal is on the horizon. "Steven will be one we look to get a contract to in the summer," Rodgers told the Liverpool ECHO. "With a year to go, it's something we will address. "I believe Steven will play beyond 2015. He is a player who has really shown his qualities this season." Gerrard has been widely tipped to retire from international football this summer following the World Cup in Brazil in a bid to extend his career at Liverpool just a little bit longer — something he'll hopefully be able to do with a Premier League trophy already tucked away in the cabinet.