Rodgers To Sign New Four Year Deal After Newcastle Match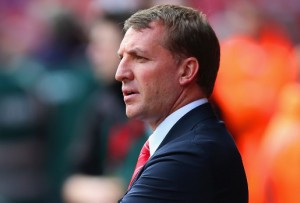 Reports are starting to flood in that Liverpool boss Brendan Rodgers has agreed to a new four-year deal in principal and will finalize it following Sunday's visit of Newcastle United. Although details of the contract are in short supply, it's believed that the Northern Irishman is in for a substantial pay-raise as the Reds American owners look to keep him at Anfield for the long-haul.
Rodgers is in his second year of his current deal, which still technically has a year left to run and has the option for a fourth year — one that would have come at the discretion of Fenway Sports Group if they believed he was the right man for the job. With the Anfield outfit making their best run at the title in 24-years and Champions League football already secured, there won't be any need for those remaining years as the Reds hierarchy looks to fend off interest from other clubs.
Although Liverpool now look set to miss out on the Premier League title after blowing a three goal lead to draw with Crystal Palace on Monday, there's little question that Rodgers is the right man for the job. His new deal will also be for four years but will not include the optional fourth year performance clause, showing that the owners have complete faith in a manager that looks to be budding into a real talent.
While the fine print is finalized, Rodgers has kept his mind focused on on-field matters with a pledge to keep up the fight. "To be the club that is top of the league by one point with one week to go, and you never know what might happen, has taken a huge effort" said the Northern Irishman. "The only thing I will promise is that while I am here we'll fight for our lives. Our season doesn't finish until after Newcastle."
And when it does, it's time for you to get paid.