Villa Boss Lambert Defiant Ahead of City Clash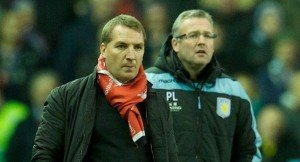 Although Liverpool could still claim their first title of the Premier League era after the shocking draw with Crystal Palace on Monday dented their chances even further, they could be in for some help from Aston Villa with Paul Lambert determined to see his side put up a fight at the Etihad Stadium later today.
Manchester City, odds on favourites to claim their second title of the Premier League era, face the Villains and West Ham United at home in their final two matches of the season. Should they win both matches, they'll claim their second title of the Premier League era. Realistically, they can still take the title should they pick up only four points with their superior goal difference sure to push them up and over Liverpool if they end level on points, but they have to win their matches first — something that's easier said than done.
"We're not going there just to make up the numbers, we're going there to try to win," said Lambert ahead of Wednesday's trip to Manchester. "You have to run a lot and run without the ball. We're going to have to work really hard without the ball but you also know you've got to try to win the game and that's what we're going to try and do." It's been one hell of an exciting season, and with all the twists and turns, three points for Manchester City is anything but assured.
The Citizens have looked shaky as of late so an upset isn't off the cards. Draws with Arsenal and Sunderland coupled with the 3-2 loss to Liverpool has given the champions elect pause, and should Villa snatch even a point, they could go into the final day with a lot to do. "Everybody knows pressure can affect different people in different ways but you look at their squad and their players are world class," mused Lambert when asked about the pressure the hosts will be under. "You have to give them credit too. They are the ones in the dressing room who have to go out and perform."
With all due respect, we hope it chokes them like a wet towel on the face.