Liverpool Signing Markovic Looking to Complete Title Treble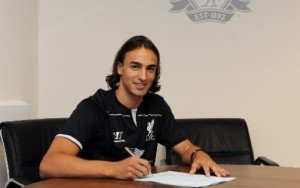 Benfica winger Lazar Markovic became Liverpool boss Brendan Rodgers fourth signing of the summer when he put pen to paper on a long term deal yesterday following a bid in the region of £20mil to secure his services.
The highly rated youngster made a number of waves in Portugal last year after trading Serbian side Partizan Belgrade for a decidedly sunnier climate. With a domestic treble in the bag and a spot booked in the Europa League final secured, the 20-year old was the subject of intense speculation linking him with a move away from Benfica after only one season in the Primera League. Although his likely destination appeared to be Chelsea with Jose Mourinho a known admirer of the speedy winger, it was Liverpool that won the race for his signature and the youngster couldn't be more pleased.
"I am very happy that I have joined such a great club" he told Liverpool's official website in his first interview since signing for the club. "I hope that I will fulfil the expectations of the supporters, coaches, players and all connected to the club."
Snapping up such a promising young player will be seen as a major coup for the Liverpool hierarchy who struggled last season to bring in top drawer talent. Reds CEO Ian Ayre seems to come in for a lot of criticism when a perceived lack of ingenuity sees a deal fall apart, but it's instances like this where he — and the rest of the transfer committee — really show their worth. The sale of Luis Suarez to Barcelona has netted the Reds a major windfall of cash, but it's their return to the lucrative fields of the Champions League and their surprising title challenge last year that's really greasing the wheels in the transfer market with negotiations for a number of top drawer targets already completed or in progress.
Markovic, it has to be said, falls into that category. "Being asked to join!" was his enthusiastic response when asked what the biggest surprise was in making the move to the five times European Champions. "It is a surprise being here" he continued, before going on to talk about his desire to succeed in Europe. "I have already played in the Champions League with Benfica. It is superb that Liverpool are in it and I hope we will go far next season."
Although a run on the continent would be a welcomed with open arms by Kopites everywhere, it's the league title that remains high up on everyone's agenda. After pushing eventual champions Manchester City to the final day of the season, it's hard not to feel the tiniest bit aggrieved at missing out on our first title of the Premier League era. With that in mind, Markovic's parting words as his interview wound down will resonate with the Liverpool faithful and have an almost prophetic ring to them. "I went to Partizan and won the title. I went to Benfica and won the title" he said. "Now I have joined Liverpool and want to win the title, 100 per cent."
And we want to see you do it, lad.
–Steven