Fabio Borini Yet to Agree to Personal Terms with Sunderland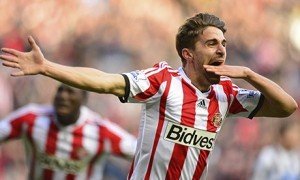 Although Liverpool look set to offload striker Fabio Borini to Sunderland for a fee that could very well rise to £14mil, Black Cats boss Gus Poyet has hinted that despite the two sides agreeing to terms, the deal isn't quite as far along as the rest of us might believe.
After impressing on loan at the Stadium of Light last year, the Wearside club made no secret of their desire to secure his services on a permanent basis. An injury hit first season on Merseyside meant that Borini had unfinished business and his agent did his best to let everyone know that Borini would prefer to stay at Anfield and fight for his place, but he looks set to make the move to Sunderland — that is, if he can agree to personal terms.
"We've agreed terms with Liverpool and we are waiting for the documents to be signed and then we'll move on from there," the Black Cats manager told SkySports news yesterday. "Like any other deal you do, first you need to sort out the clubs and then you start working with the player. I'm hoping we can have him because he knows how much it would mean for us to have a player like Fabio."
While there's nothing to suggest that this deal won't end up going through, Reds boss Brendan Rodgers echoed Poyets sentiments and confirmed that the player has yet to agree to terms. "It's an agreement between the clubs but nothing agreed with the player as of yet," he told BT Sport. "He is still very much a Liverpool player."
Well, hopefully he won't be able to say that much longer…