Divock Origi on Verge of Liverpool Move?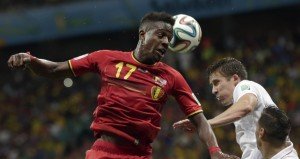 We've been hearing it for weeks now, but it finally looks like Divock Origi is set to complete his long awaited move to Liverpool in the coming days.
Despite being given a guided tour of Melwood by Reds boss Brendan Rodgers following Belgium's elmination from the World Cup almost three weeks ago, the striker took time to consider his future with offers from the likes of Arsenal, Tottenham Hotspur and even Spanish giants Real Madrid also rumoured to be on the table. Time to think was apparently one of the major factors that sealed the deal with his father — who also acts as his agent — has flown to the United States to hash out any remaining details with the Liverpool hierarchy in Boston.
Although no official fee has been released, reports suggest that the Reds will pay somewhere between £10mil and £12.5mil to secure his services on a five year contract — the first of which he'll spend in France. As previously reported, the 19-year old will spend next season on loan at Lille with the Ligue One club, as well as their shirt sponsor, insisting on a number of occasions that Origi would still be in in their line-up when the transfer window closed.
Of course, they weren't about to speculate whether or not he'd be their player. According to well connected Belgian journalist Sven Claes, Origi could be presented by the Anfield outfit as soon as Monday and will resume pre-season training with Lille shortly after getting a number of awkward pictures taken where he has to lean on all sorts of things.
Now, let's just wait and see if this happens…