Divock Origi vs Russia: Video and a Player Who Has Everything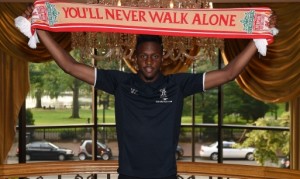 Summers that boast major international tournaments always introduce a new star or two to the world at large, and this year we got an amazing introduction to new Liverpool striker Divock Origi as he helped Belgium to a the Quarter-Finals of the World Cup.
"For me, he can be one of the most exciting talents in world football. I genuinely believe that" Liverpool boss Brendan Rodgers told the clubs official website following Origi's unveiling. ""You see a lot of good players, but this kid – for 19 years of age – he burst onto the scene at the World Cup, but we'd tracked him before that, we'd seen him as a young player playing in the youth internationals."

Video courtesy of MrBoywunderHD
The youngster was one of the standout performers for the Red Devils in Brazil, keeping the much fancied Romelu Lukaku on the bench and igniting a inferno of interest around his future. Following weeks of speculation — and negotiation — he's put pen to paper at Liverpool on a new long term contract and he couldn't be happier.
"It was my dream to play for a big club. I know Liverpool is a club with a great history, so for me it was perfect" said Origi with a broad smile on his face as he talked about both the club and manager Brendan Rodgers. "He showed a lot of interest and told me that with hard work I could go far. I have to work hard, he's a great coach and I'm very happy."
As reported earlier, Origi will spend next season on loan back at Lille as the Reds look to keep his progression on track. The youngster scored five goals in 29-appearances for the Ligue One side last season — a number he'll be looking to better both domestically and abroad.
"Just to progress. This year I'll have a chance to play at European level, so in the Europa League or Champions League" the 19-year old explained when asked what his goals were for the upcoming season. "It's important for me to gain a place in the team, improve and be ready for the season after that."
Although the loss of Luis Suarez to Barcelona has put a dent in the Reds offensive prowess, they're not about to steer away from their game plan and the signing of Origi — along with fellow youngsters Lazar Markovic and Emre Can — show that they're continuing to plan for the future by bringing in and shaping promising players long before they reach their prime.
"He has everything to be world class" continued the Northern Irishman. "He's super fast, has a wonderful touch, he's a good size and is aggressive. What I like, and what I have in other players, is that humility to work hard. He can light up world football, for sure."
While it's a bit of an anti-climax knowing that we won't see Origi in a Liverpool shirt next season, Kopites everywhere will be keeping an eye out for smoke coming from France next season as our next world beater sets a fire or two in Ligue One.
–Steven