CONFIRMED: Liverpool Complete Javier Manquillo Loan Deal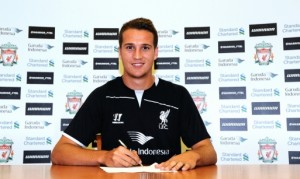 The whole CONFIRMED thing in the subject doesn't carry with it the surprise or the excitement it usually does considering we've been looking at pictures of new Liverpool signing Javier Manquillo on Merseyside all week, but all the same, the club made the move official earlier in the day.
The 20-year old, who will spend the next two seasons at Anfield in an atypical loan arrangement with parent club Atletico Madrid, put pen to paper on the deal following a successful medical earlier in the week. As reported earlier, the Reds will have the option to make the deal permanent for a fee believed to be in the region of £5mil, but in another bit of oddness, the La Liga outfit will be able to recall the youngster next summer, but will have to pay Liverpool a penalty to do it.
Strange arrangements aside, Manquillo is looking forward to putting an injury hit season behind him and making his mark on Merseyside. "I'm very happy to have signed for a club like Liverpool. I think it's one of the biggest in Europe. Any footballer would want to come and play here" he told the official website. "When they tell you Liverpool want to sign you, I think like any player, you are going to be absolutely amazed and you don't think of anything else than going straight there."
The 20-year old will be in line to provide competition to both Glen Johnson, who has yet to sign a contract extension, and Jon Flanagan, who showed Reds boss Brendan Rodgers how versatile he is by putting in impressive performances on both flanks last season.
Welcome to Liverpool, Javier.