Fabio Borini Set for Liverpool Stay After Queens Park Rangers Move Falls Apart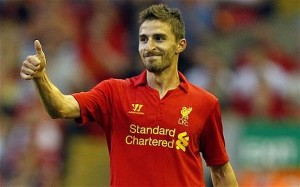 He said he wanted to stay at Anfield at the beginning of the summer and despite two agreed deals, a bucket-load of interest from a number of parties and the manager telling him he'd be best to shove off, Liverpool striker Fabio Borini has done just that and will be on Merseyside until at least January.
A proposed move to Sunderland looked to be a go with the two sides agreeing to terms in July, but with the striker unable — or, very much unwilling — to discuss personal terms with the Wearside club, Black Cats manager Gus Poyet was left holding out hope all the way up until news that the Italian was in talks with Queens Park Ranger over a potential permanent move to the Hoops started to leak out.
Although Sunderland looked to have missed out on their number one target, it looks like QPR boss Harry Redknapp won't be adding his name to the squad sheet anytime soon with the 23-year olds wage demands destroying any hope of a deal. While that might sound like a load of rubbish considering he's not exactly setting the Premier League alight with goals, it's been confirmed by the man himself.
"His wage demands were way beyond anything we could afford" Redknapp said, all but confirming that the deal is dead. Liverpool had agreed to a fee in the region of £10mil for the Italian striker with another £3mil in add-ons set to bump the price up in the region of what Sunderland were willing to pay, but he now looks set to spend at the very least the fall at Anfield — probably on the outside looking in.