Sebastian Coates Looking Forward To Sunderland Season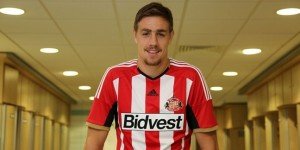 Following his deadline day loan move to Sunderland, defender Sebastian Coates is looking forward to kicking off the season with his new club.
The Uruguayan missed a large portion of last season after a knee injury sidelined him and left him frantically trying to recover in time to represent his country at the World Cup. A loan back to his homeland in the later stages of the year with Club Nacional saw him win his fitness race in time to make it to Brazil, but the 23-year old always looked like he was going to be on the fringes of the Reds squad if he stuck around on Merseyside.
Although Sunderland held back on formalizing the move after making an official inquiry in late August with hope that they may be able to snag Fabio Borini for another year after a permanent transfer broke down, when it became obvious that the Italian wasn't about to move to Wearside, everything moved along quite quickly. "It is a pleasure for me to be here and I am really excited for the opportunity to be part of Sunderland's team" he told the Black Cats official website following the move. "It has been great since I arrived here; I know the team and the manager now so it is really good."
With some regular playing time, Coates may be able to get back up to the level that got Liverpool interested in the defender in the first place and he looks forward to doing it alongside compatriot and Sunderland manager Gus Poyet. "For me it is really important to be here, he spoke with me and I know what he wants from me which is also important" he said of the Uruguay legend. "He tries to play good football and that is really important for me because at Liverpool it was the same style."