Jordan Henderson Ready to Step Up for England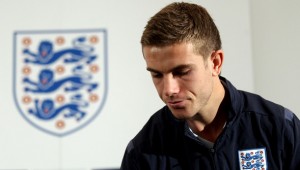 We're only three matches into the Premier League season, but already we've got an international break disrupting our flow. England host Norway at Wembley Stadium later on today before kicking off their Euro 2016 qualifying with a trip to Switzerland the following Monday.
Following a disappointing performance at the World Cup in Brazil over the summer, the Three Lions will be looking to get the fans something to cheer about with Liverpool midfielder Jordan Henderson calling on the younger lads to raise the bar for their country. "It is a little strange not having Steven Gerrard and Frank Lampard around, but it's a chance for the younger players to step up," he said. "It's now up to the younger players to step up to the plate. I feel as though I'm starting to become one of the older members of the squad and with that comes more responsibility."
The midfield engine has picked up exactly where he left off last season and has been garnering praise from all corners as the Reds went two for three in their opening round of matches. Although most Kopites would trade a safe return for their stars over an England win any day of the week, Henderson remains focused on doing well for his country and proving the naysayers wrong.
"The only way we can answer the critics is by going and giving good performances. Hopefully we can show how good we are" continued the Liverpool man. "We're looking forward now and these first few games are crucial. We'll pull the shirt on and do our best, as we always do. Both Liverpool and England expect to get good results when we play, but we like pressure and we'll relish that and look forward."